There are many things to think about when you're building or remodeling a home. You'll make pivotal decisions, from size and layout to paint colors and flooring. 
We're here to help you select options for two of the most used rooms in your house — the kitchen and bathroom. Countertops and cabinets come in various materials, each with distinctive features. This guide provides an overview of materials to help you choose the best ones for your home. 
Kitchen Countertop Materials
What kitchen counters are in style? There are many trendy countertops available to suit any taste and budget. We explore each below to help you decide which type of countertop is best for your kitchen.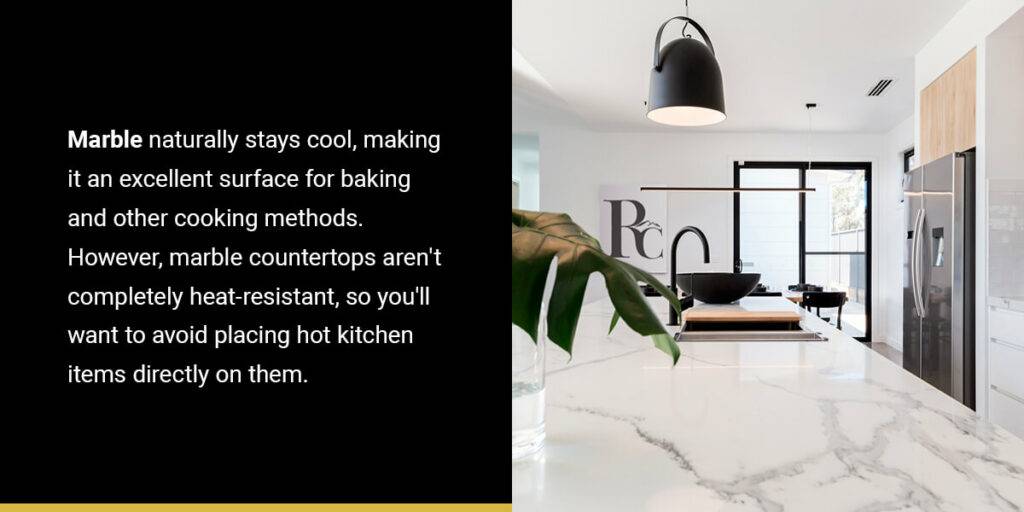 Natural Stone
Many builders hail natural stone as the most durable material. Workers mine natural stones from quarries worldwide, cut them into slabs, polish and fabricate them into countertops. 
Many natural stone varieties are available for kitchen countertops, each offering pros and cons. 
Granite: Granite is one of the hardest materials on earth, boasting incredible durability. Granite countertops are heat- and stain-resistant and durable enough to resist chips and scratches. However, you should seal them with a protective coating each year, and repairs can be costly and challenging if they happen to sustain damage. 
Soapstone: Soapstone countertops are available in various shades of gray for a rustic, utilitarian look. Pros of soapstone are that it's non-porous, meaning it's stain- and bacteria-resistant. Soapstone is softer than most other stone countertop materials, making it pliable and durable. It's also low-maintenance and eco-friendly. However, soapstone scratches easily and will show signs of wear in heavily used areas of the kitchen. 
Marble: Many people love marble countertops for their rich, luxurious appearance. Marble comes in different types, prices and colors. There are many variations of marble because of factors like its source, impurities, patterns, colors and veining. Marble naturally stays cool, making it an excellent surface for baking and other cooking methods. However, marble countertops aren't completely heat-resistant, so you'll want to avoid placing hot kitchen items directly on them. Marble is also porous, so it can easily stain without annual sealing. However, marble countertops can be a long-lasting investment with regular care and maintenance.   
Quartzite: Many homeowners choose quartzite as a more affordable option that resembles marble. Quartzite is durable, low-maintenance, UV-resistant and available in many colors and patterns. However, it is porous and prone to scratches, so an annual sealant application is necessary to keep it in tip-top shape. 
Engineered Stone 
Engineered stone countertops contain crushed stone fragments bound together with an adhesive. They're a popular choice for kitchen countertops because they're environmentally friendly, durable and easy to maintain.  
Engineered stone comes in various colors and styles. And because it's human-made, you can expect your slabs to have a consistent look and pattern while closely resembling natural stone.  
Below are options for engineered stone countertops.
Porcelain: Porcelain contains a natural mix of powdered china stone and white china clay. Porcelain countertops resist heat, scratches and fading. They are also durable, impervious to water and easy to maintain. However, porcelain can crack under blunt force, so you'll have to take extra care if you install it in your kitchen.  
Quartz: Quartz countertops contain natural quartz and minerals combined with chemical resins and pigments. Quartz is a non-porous material, so quartz countertops are scratch-resistant and don't require sealing or special upkeep. However, hot pots and pans can damage the resin in quartz, so you'll want to avoid placing them directly on the countertop.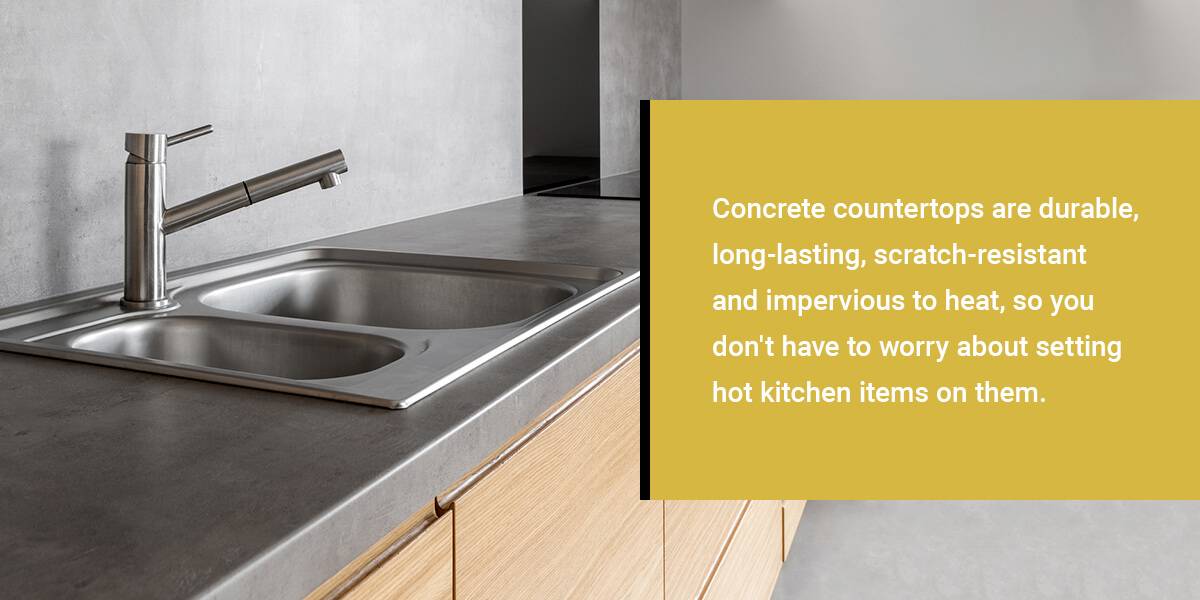 Concrete 
Concrete countertops give your kitchen a modern, industrial aesthetic. They also offer several benefits. 
Concrete countertops are highly customizable — fabricators can etch, stain, stamp or seal them for various unique finishes. If you want a detailed look, you can have them embedded with stones, glass shards or shells. 
Concrete countertops are durable, long-lasting, scratch-resistant and impervious to heat, so you don't have to worry about setting hot kitchen items on them. And because it's a premium material, concrete countertops can increase your home's resale value. 
Like every other countertop material, concrete has a few drawbacks. For example, it's heavy, so your cabinets and floors must be sturdy enough to bear the extra weight. Concrete countertops also require annual sealing to resist stains.  
Butcherblock 
Butcherblock countertops contain individual strips of wood fused into a smooth slab. Butcherblock countertops exude a warm, farmhouse-style vibe, but they also work in modern, trendy kitchens when paired with moody colors. You can choose from various woods and grains to suit your style. 
Butcherblock is an excellent choice if you're looking for an inexpensive material. The average cost of butcherblock countertops per square foot is much more affordable than other popular options like concrete, marble and quartz. 
Butcherblock is also easy to clean. Unlike many other countertop surfaces, you can safely use simple household products like soap or acid-based cleaners to sanitize it.  
One disadvantage of butcherblock is that it's sensitive to liquid. Wood can stain, become germy, grow mold and even warp if it absorbs too much moisture. You'll need to seal your butcherblock countertops monthly with food-safe mineral oil to protect them from liquids and water damage. 
Despite what the name implies, it's best not to cut and chop food directly on butcherblock. Sharp knives can easily leave scratches and dents in the soft wood. Instead, use a dedicated cutting board for food prep. 
Another consideration is that wood expands and contracts in response to seasonal heat and cold. Butcherblock countertops require about an eighth of an inch of space around their perimeter to allow for swelling and shrinking. They can warp or crack if they don't have enough room to accommodate changing temperatures. 
Laminate 
Laminate countertops became popular in the mid-1900s as a substitute for wood and stone surfaces. Laminate countertops contain plastic fused with kraft paper or particleboard. Though people eventually regarded early laminate countertops as cheap or tacky, today's materials are of significantly better quality. Leading brand names include Formica, Wilsonart and Nevamar. 
Laminate countertops are available in many design options. They're also DIY-friendly and easy to maintain. However, laminate countertops are typically shorter-lived than other materials and can be vulnerable to heat, chipping and delamination. 
Tile 
You may associate tile with backsplashes and bathroom floors, but it also makes a creative countertop material if you want an artsy kitchen full of pattern and texture.
Tile is available in various materials, and ceramic and porcelain are the most commonly used. When you choose tile countertops, you'll have various colors, shapes and sizes to select from. And if damage occurs, it's easy to replace individual tiles. 
However, tile countertops do not provide an easy-to-clean, smooth surface. Moreover, the grout between tiles is porous, opening it up to bacteria absorption. If you opt for tile countertops, you'll likely want to seal the grout annually to protect it.   
Now that we've covered kitchen countertop materials, let's move on to an equally essential component — cabinetry.
Kitchen Cabinet Materials
Cabinets are an indispensable part of your kitchen. The best cabinet designs provide ample storage space for dishes, pots, pans, appliances, cooking utensils, food and more. They're also an opportunity for you to showcase your design preferences. 
You can opt for custom-built or stock cabinets. Some cabinet manufacturers also offer "stock-custom" cabinets, which offer customizable features you can mix and match.  
Regardless of how you purchase them, cabinets consist of wood and wood-based products. Let's look at some of the most popular cabinet materials below.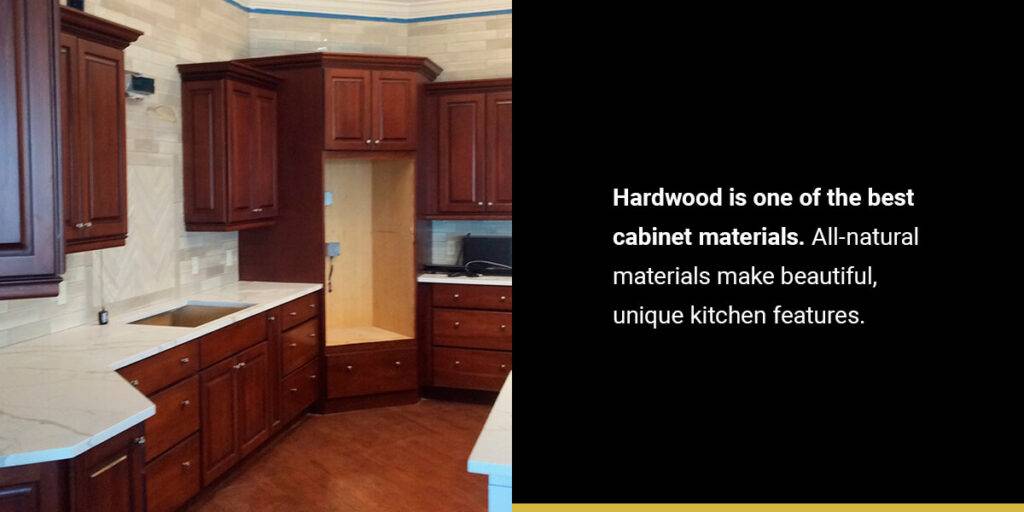 Hardwood 
Hardwood is one of the best cabinet materials. All-natural materials make beautiful, unique kitchen features. Many types of hardwood are ideal for cabinets, including the following. 
Oak
Hickory
Cherry
Maple
Birch
Pine
Ash  
Hardwood cabinets are durable, long-lasting and easy to repair. However, hardwood is a more expensive material, and due to its heavy weight, hardwood kitchen cabinets require strong structures to support them. 
Plywood 
Compared to hardwood, plywood is a more affordable material that offers nearly as much durability. It consists of layers of wood laminated together using a combination of glue, heat and pressure. 
Plywood cabinets are a popular choice for kitchens because they're moisture-resistant, strong, easy to repair and more affordable than hardwood. 
Medium-Density Fiberboard 
MDF falls between plywood and particleboard in terms of quality. MDF is stronger than particleboard because it contains smaller fibers pressed together with resin and wax. MDF is best for cabinet doors and drawers. Though it's not as sturdy as plywood, it's resistant to warping and can hold screws well.  
Particleboard
Particleboard is an engineered product that contains recycled wood chips and sawmill shavings. Covering sheets of particleboard with laminate or a veneer gives them an attractive finish. 
Particleboard cabinets are some of the most affordable choices on the market. Particleboard works especially well for cabinet interiors because it's lightweight. 
The disadvantage is that particleboard is less durable than other options. It can sag under too much weight, and exposure to moisture can cause it to deteriorate.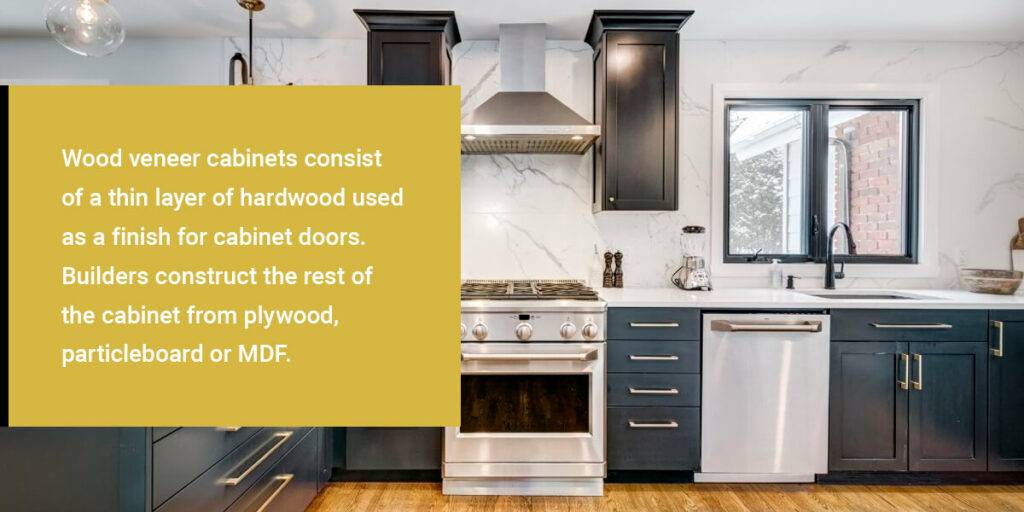 Wood Veneer 
Wood veneer cabinets consist of a thin layer of hardwood used as a finish for cabinet doors. Builders construct the rest of the cabinet from plywood, particleboard or MDF. 
Wood veneer cabinets can be a good option if you want the appearance of hardwood but don't want to spring for solid wood cabinets. Of course, they will be less sturdy, but if you choose wood veneer cabinets made with plywood or MDF, you can expect a degree of durability. 
Now that we've covered kitchen cabinets and countertops, let's transition to another pivotal room in the house — the bathroom. 
Bathroom Countertop Materials
Though the selection and installation processes for bathroom countertops are similar to kitchen countertops, there are a few differences to consider. 
The main difference between bathroom counters and kitchen counters is that bathroom counters are usually shorter and thinner. 
Bathroom countertops are also subject to different kinds of wear and tear. They come in contact with products like hand soap, toothpaste, mouthwash and various cleaning agents that might stain or damage them. 
Check out the following options to help you choose the best countertop material for your bathroom. 
Laminate
Laminate countertops have come a long way since they emerged on the market in the 1940s. Today, laminate manufacturers bond layers of plastic to a particleboard or MDF core to create laminate countertops. They're available in a range of colors and patterns that closely resemble granite, marble, leather, wood and even stainless steel.  
You can purchase in-stock slabs of laminate countertops and have them cut and sized for your bathroom. Alternatively, fabricators can make laminate countertops to your specifications, adding custom edges and other design features.
Premade laminate countertops bought off the shelf cost from $10 to $30 per square foot. You can expect to pay a bit more for custom laminate countertops.
Laminate countertops work best in guest bathrooms or powder rooms. They're also a quick fix if you need a bathroom makeover in a pinch, such as when staging your home to sell. Laminate countertops are not ideal for primary bathrooms, where style and durability are likely more critical. 
Tile
Porcelain, glass or ceramic tiles work well in many aesthetic styles, from traditional to trendy and modern. 
Bathroom countertop tiles vary widely in cost. Materials can run from less than $1 per square foot to $200 or more for handcrafted artisan tiles.
Tile installation is relatively easy if you are handy with DIY projects. For professional installation, you can generally expect to pay $16 to $65 per square foot of tile.  
Tile is a good choice for an artsy, affordable countertop material you can install yourself. However, tile is brittle and may crack with impact, and the grout lines surrounding each tile require regular cleaning and sealing.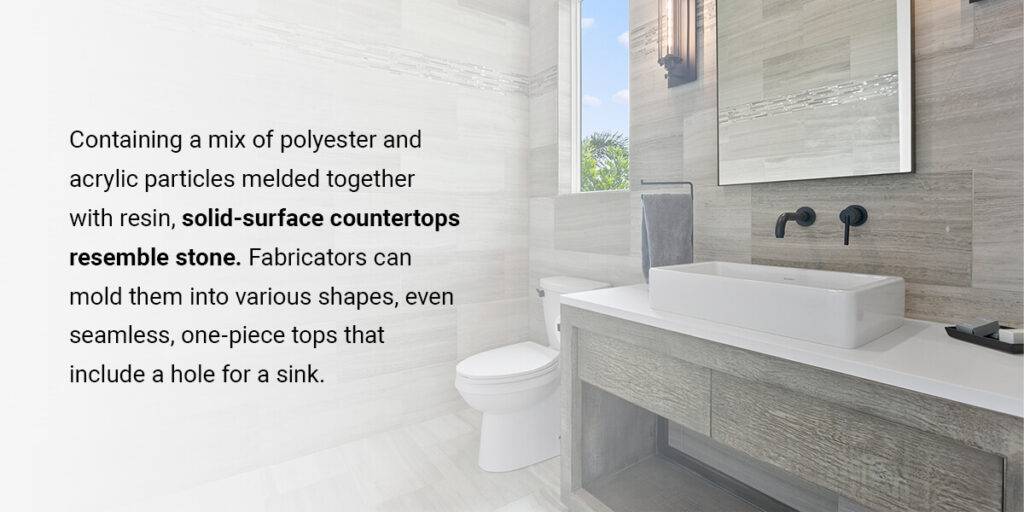 Solid Surface
Containing a mix of polyester and acrylic particles melded together with resin, solid-surface countertops resemble stone. Fabricators can mold them into various shapes, even seamless, one-piece tops that include a hole for a sink. 
Corian, Wilsonart and Swanstone are some of the top solid-surface manufacturers, offering dozens of colors and styles.  
Solid-surface countertops were once top-of-the-line building materials, but they now occupy a middle ground between laminate at the lower end and natural and engineered stone at the higher end. Solid surface materials average $20 to $50 per square foot. 
Solid-surface countertops work well in bathrooms that experience heavy use, such as children's bathrooms, because they're easy to maintain and stain-resistant. 
They're also easy to repair if they get scratched. Homeowners can sand them down with fine-grit sandpaper or use an automobile buffer to buff them down to a glossy finish. 
Stone
Natural stone is a premium material that lends luxury to your bathroom countertops. It works well in primary baths but not so much in family baths that get lots of use.
Natural stone tops are typically solid slabs with openings cut for bathroom sinks. You can choose from various materials, including these.
Soapstone: Soapstone comes in milky shades of white or gray with subtle veining. It's a non-porous stone that's easier to maintain than marble or granite. Soapstone costs $55 to $120 per square foot. 
Limestone/travertine: You'll find these two closely related stones as bathroom tiles or slabs. They tend toward the porous side, so you'll need to seal them carefully and consistently. Limestone and travertine cost $10 to $15 per square foot. 
Slate: Slate is a hard stone that resists stains once sealed. It comes in uniform shades of gray, green and black. Solid slabs of slate range from $77 to $100 per square foot. 
Marble: Marble is one of the most beautiful natural stones, with dramatic veins and a nearly endless array of patterns and colors. However, marble is a relatively soft and porous stone requiring sealing every one to two years. Solid slabs of marble average $40 to $100 per square foot.  
Granite: Compared to marble, granite has less veining and more flecks of color. It's a popular choice for stone bathroom countertops due to its diversity and availability. Granite slabs range in cost from $40 to $100 per square foot.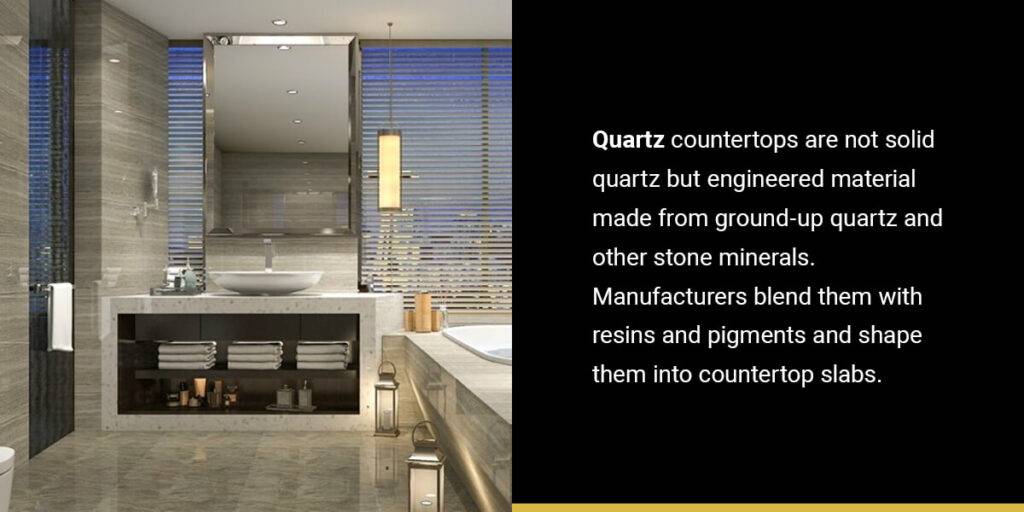 Quartz
Quartz countertops are not solid quartz but engineered material made from ground-up quartz and other stone minerals. Manufacturers blend them with resins and pigments and shape them into countertop slabs.
Many styles of quartz are available and closely resemble natural stone. Quartz countertops often come with sink basins built in. Cambria and Corian are two of the top manufacturers of quartz countertops. 
Quartz slabs typically cost between $50 and $200 per square foot. They add a classic, contemporary style to all bathrooms and will enhance your home's value. 
Bathroom Cabinet Materials
Bathroom cabinets, or vanities, are an essential element of your bathroom because they provide a functional surface for things like shaving, brushing your teeth, styling your hair, applying makeup and more. You'll want a bathroom cabinet material that withstands weight, moisture and humidity without warping, discoloring or cracking. 
The following materials are available for bathroom cabinets. Check out the pros and cons of each to help you choose the best one for your bathroom.   
MDF
We've discussed MDF as an inexpensive material for cabinets. It's an engineered combination of wood pieces and fibers stuck together with resins or waxes. 
MDF is similar to particleboard but smoother and denser. It is vulnerable to bathroom moisture, so you'll need to seal it with paint or another type of finish to keep it from swelling and coming apart. 
Plywood
Though not as high-end as solid wood, plywood is still a sturdy, affordable option for bathroom cabinets. Plywood consists of sheets of layered wood veneers. Quality will vary based on the thickness of the plywood and the wood products used. 
Finished plywood is water-resistant, making it suitable for moist bathroom environments. It's also resistant to the expansion and contraction that can occur in solid wood due to fluctuations in temperature and humidity, meaning it may last longer than solid wood cabinets.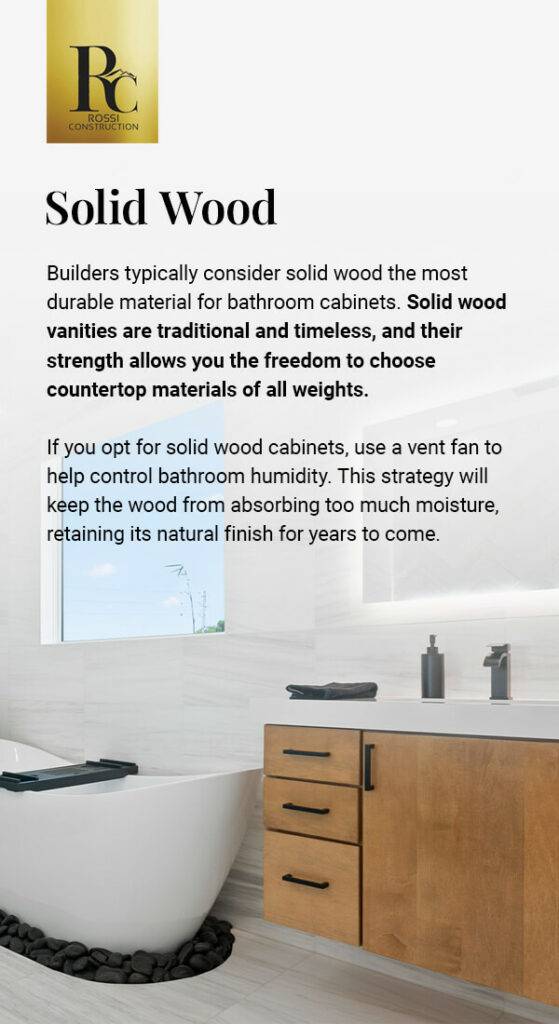 Solid Wood
Builders typically consider solid wood the most durable material for bathroom cabinets. Solid wood vanities are traditional and timeless, and their strength allows you the freedom to choose countertop materials of all weights.   
Even though solid wood is durable, bathroom conditions can still pose a threat. Wood can swell as it adjusts to moisture and climbing temperatures. In extreme cases, this expansion can cause the cabinets to warp or produce cracks in the finish. A veneer or sealant can help prevent these issues.
If you opt for solid wood cabinets, use a vent fan to help control bathroom humidity. This strategy will keep the wood from absorbing too much moisture, retaining its natural finish for years to come.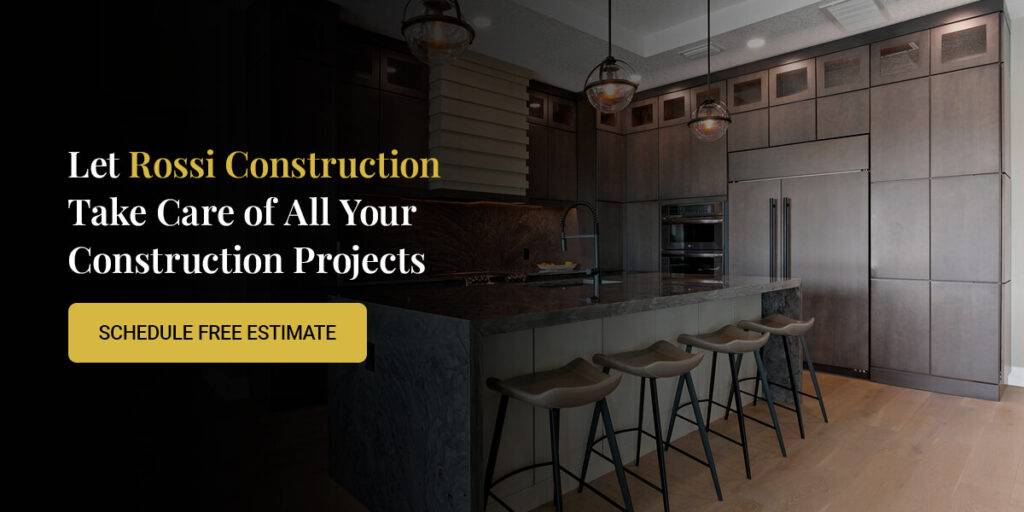 Let Rossi Construction Take Care of All Your Construction Projects
Whether you're taking on a new build or remodeling your home, rental property, office or commercial site, the knowledgeable, trustworthy craftspeople at Rossi Construction look forward to helping you select the best materials for your project. Request a complimentary estimate today!