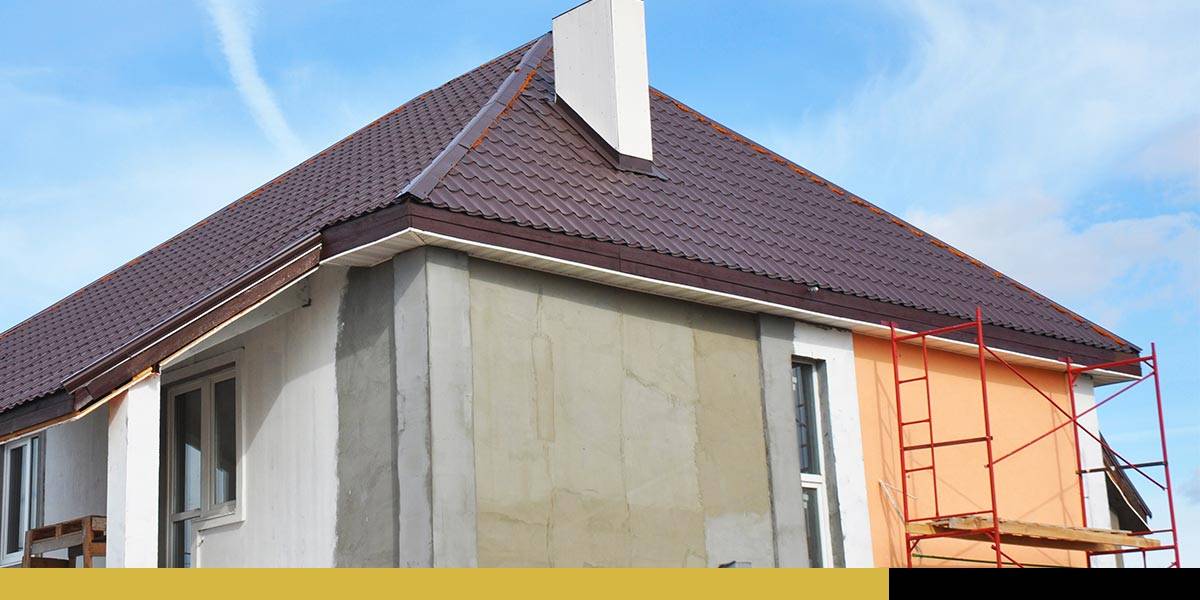 Is it better to build a new home or remodel your current one? The answer depends on your unique situation and the kind of upgrades you are interested in making. Below, we explore what you need to consider when deciding between remodeling your current home or opting for brand-new construction.
When Is It Time to Update Your Home?
Explore some of the most common reasons homeowners opt to upgrade their home with a remodeling or building project:
Staying in your location: If you want to remain in your current neighborhood, tackling some upgrades can allow you to create your dream home without moving into a different house.
Enhancing your home's functionality: By taking on a construction project, you can create a home that's more practical for you and your family.
Boosting your property value: You may be interested in making some modifications that will increase your home's value, which is highly beneficial if you plan to move.
Improving your outdated living space: If your home is older or its features are outdated, consider if you want to build something new or make changes like incorporating more energy-efficient systems.
Correcting damage: Another reason you may consider upgrades or a move is correcting existing issues, such as damage from a storm or wear.
Once you know why you want to make changes, it's time to decide whether it's better to gut a house or build a new one.
Remodeling
A remodeling project can help you transform your home and create a space you and your family love spending time in. Explore the key considerations for a remodel project to decide between making upgrades or building new.
When Is Remodeling Best?
A remodeling project is best suited for homeowners looking to do the following:
Make minor upgrades: A remodel is typically more cost-effective than a building project if you want to change a single room or section of your house.
Keep the same mortgage and property taxes: Many homeowners can uphold the same monthly costs by opting for a remodel instead of building new.
Deal with fewer restrictions: Many home upgrade projects don't require permission from local municipalities like new construction does.
Requirements for a Remodel
Before starting a remodel project, you should research any local building requirements. Depending on the scale of your upgrades, you may need certain permits before construction begins.
Different counties and municipalities will have codes you must follow. While most remodels don't require special permission, it's best to be safe and contact your local code office to ensure you can kickstart your upgrades.
Benefits of a Remodel
Consider the following advantages of remodeling your home:
Create more space: With a remodel project, you can add square footage or make your home more spacious. Whether you want to remove a wall or build an addition, there are many ways to create more room for your family. 
Enjoy a shorter timeframe: One of the benefits of remodeling instead of building new is getting your home upgrades finished in a shorter period of time.
Update certain sections: If you love portions of your current home but would like to make some changes to other areas, you could focus on single rooms, such as remodeling your bathroom or renovating your kitchen.
Limitations of a Remodel
Some of the limitations associated with a remodel include:
Relocation: Some upgrades will require your family to relocate to a hotel or friend's house during renovations.
Not ideal for major overhauls: A remodel may not be a cost-effective solution for a large-scale overhaul that's necessary to make major upgrades to your home's layout.
Design limitations: Any remodeling you do will have to suit the structure of your current home, which may cause some design limitations.
Building New
Building a new home is a great way to create your dream property. Check out the key considerations for this type of project.
When Is Building New Best?
Opting to build new is best for homeowners looking to accomplish the following:
Fully customizing your home's design: Building a new house is a great option if you want full control over its design and setup.
Optimizing for energy efficiency: When you opt for new construction, you can choose cost-effective systems that boost your home's efficiency.
Living in a brand new home: By building a new house, you can enjoy the benefits of living in an entirely new, updated space with minimal wear and low maintenance costs.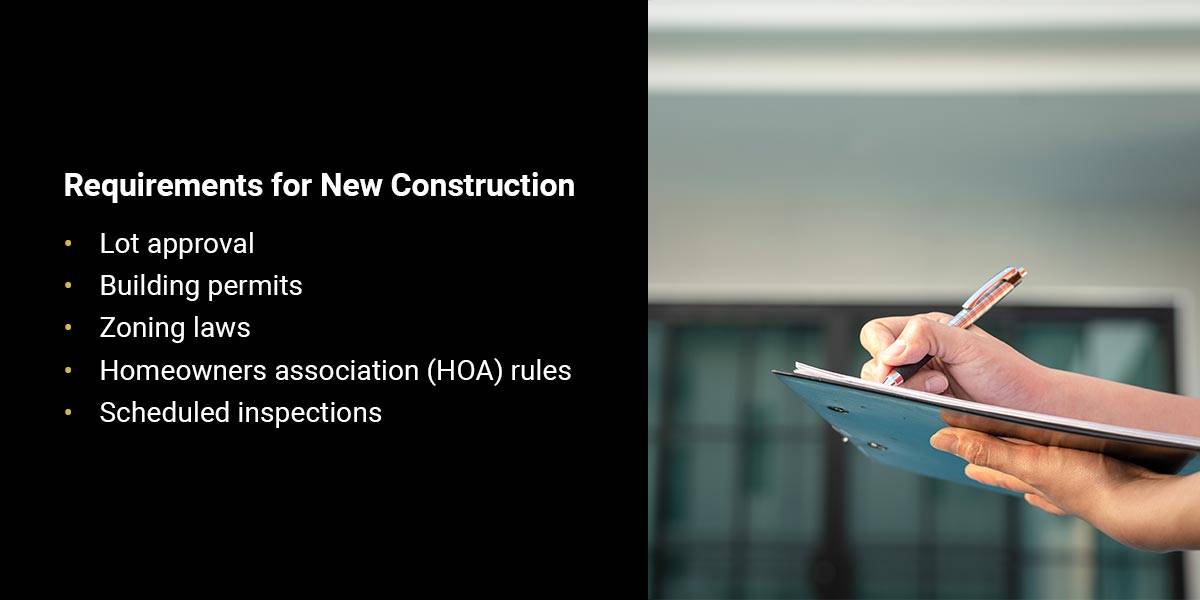 Requirements for New Construction
If you're interested in building a new home, you must be aware of these requirements:
Lot approval: You'll need to obtain the assessor's parcel number for your lot and ensure it's an approved building site.
Building permits: Your building project will require documentation and special permits indicating your new construction complies with the International Building Code (IBC) and local regulations. 
Zoning laws: State and local governments have specific land use laws you must abide by when building your home. 
Homeowners association (HOA) rules: If you build in a neighborhood with an HOA, you must check in with them and gain approval for your construction.
Scheduled inspections: Officials must perform regular inspections throughout your building project to ensure your home complies with all laws and codes.
Benefits of Building New
The following are some of the advantages of building a new home:
Avoiding real estate bidding wars: By choosing to build your house, you can forgo the stress of finding the perfect home on the market and outbidding other potential buyers for it.
Enjoying low maintenance costs: A brand-new home typically means fewer maintenance needs and lower associated costs. Plus, your new appliances may be covered by warranties.
Getting exactly what you want: The greatest advantage of new construction is customizing your house's floor plan and design to meet all your goals. Building new allows you to bring your dream home to life.
Limitations of New Construction
Some of the limitations associated with building a new home include the following:
Longer timeframe: A new construction project will almost always take longer to complete than a remodel project. 
Requires many approvals: You'll need to comply with many rules and get various permits during the building of a new home.
Construction loans: Obtaining a construction loan can be more complicated than getting a traditional mortgage for an existing house.
How to Decide: Questions to Ask Yourself
Be sure to explore these questions before deciding whether it's better to renovate or build a new house.
What Are Your Desired Results?
Take a look around your current house and identify the upgrades you'd like to make to achieve your desired results. If you want to make changes to the majority of your house, building a new home may be the best option.
What Are Your Long-Term Plans?
Assess your goals for the next few years. Do you want to live in your current neighborhood? Are you looking to expand your family? If you love your current address and want to tweak your house, then a renovation project could be perfect. If you want to start fresh on a new street or in a custom home, consider new construction.
Which Is More Expensive, Renovate or Build?
Your budget will determine the scale of your remodeling or building project. The overall costs will depend on your unique construction needs. You'll also need to consider how much you'll spend on staying elsewhere during the building process. 
Get a Free Estimate on Home Upgrades From Rossi Construction
With an understanding of the pros and cons of renovations vs. new construction, you can make a more informed decision about your next home project.
Rossi Construction is an award-winning residential construction company based in Tampa, Florida. We can help you make the upgrades needed to create your dream home. Whether you want to tackle a remodel or a new build, our team is here to guide you through every step in the process.
Interested in getting started with your home upgrades? Request a complimentary estimate from Rossi Construction today!