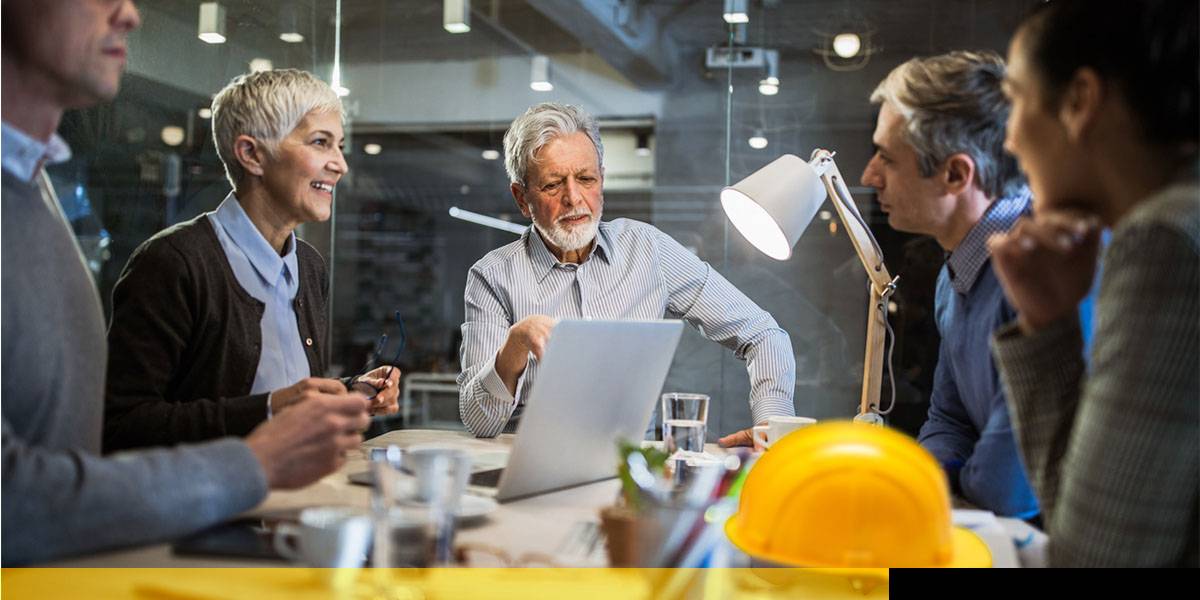 There are various questions to ask a construction company in an interview to ensure you're getting the quality you deserve. Commercial contractors expect a discovery process and in-depth vetting before they sign on to new projects, so you can feel free to ask as many questions as you'd like. 
You'll want to gather as much information as possible to make the best project decision. We've compiled a list of questions to help you find a contractor to meet your needs.
How to Find a Commercial Contractor and What to Look For
You'll need to consider plenty of factors when choosing a commercial contractor, including rates, quality of service and timeline. When looking for a commercial contractor, you want to ensure that you find an expert team so your project runs smoothly. Some things to look for in a commercial contractor include:
References and portfolios: Asking for references helps determine the success and variety of a contractor's past projects. References will also give you a better understanding of the quality of your contractor's work, giving you peace of mind that you've chosen the right group. You'll want to follow up with the references you receive as soon as possible to help determine the contractor's quality and expertise. You can also ask to see their portfolio, which can help you gauge the quality of their work.
Comprehensive services: You'll want to find a contractor that offers the services you need for your project. You can ask about their services or browse different contractors' websites to get a better idea of what they offer.
Safety records: Another thing to look for in a contractor is their safety records. A contractor's safety or claims records help determine how safe they keep their workers or the construction site. If your contractor has had a lot of claims from past clients, it could be a sign that you need to move on and find a contractor with a better reputation. A contractor's reputation reflects the quality of their work — the better the reputation, the more likely their work is high-quality and safe. 
Customer service: You'll also want to look into the quality of a contractor's customer service. A contractor needs to communicate regularly and respond to questions quickly so you can understand your project's timeline and budget. You'll want to find a contractor with high-quality customer service so you're constantly informed during the project.
Licenses and insurance coverage: You'll want to check if your chosen contractor has enough insurance to cover the project's scope. If a contractor is underinsured and causes more damage than their insurance covers, you may have to pay out of pocket to repair the damage. You'll also want to find a contractor certified or licensed to perform projects in your state. Some specific projects, such as eco-friendly construction, may require additional certification.
You can find a commercial contractor by looking online, calling local companies or asking for references from other businesses that have previously worked with commercial contractors.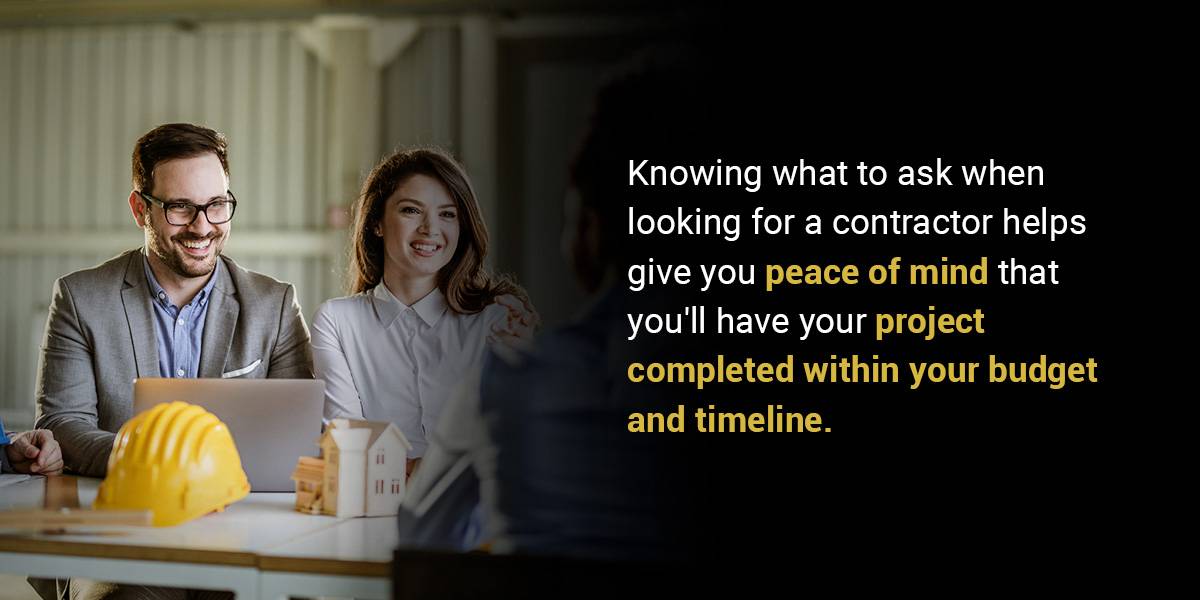 What Should I Ask My Commercial Contractor?
Knowing what to ask when looking for a contractor helps give you peace of mind that you'll have your project completed within your budget and timeline. Below are some questions you should ask when looking for a commercial contractor.
1. What's Your Experience Working on Similar Projects?
Before you start working with a contractor, you'll want to know what experience they have working on projects that are similar to your own. You'll want to know if these projects were successful to gauge their ability to meet the specifications of your project. You can also ask if they completed these projects on time and within budget to determine if your funding is adequate and if they'll finish your project on time. 
You'll also want to ask about their general experience in construction. Determining their expertise and depth of knowledge will help you pick a contractor with the experience necessary to complete the job.
2. Do You Use Site Supervisors?
Site supervisors will be your main point of contact to help you determine the project's progress, the estimated timeline and budget adjustments. You'll want to determine if your contractor will have a site supervisor at the job site so you'll have someone to talk to about the progress of your project. If a contractor doesn't have a site supervisor, you may want to look for one that does.
3. How Many Projects Do You Work on at the Same Time?
Asking how many projects a contractor is working on simultaneously will help you determine how busy they'll be while they work on your project. Contactors who work on too many projects at once may not be able to complete your job in your desired timeline. You may want to look for a contractor who dedicates more time to your project or has a big enough team to manage all their jobs without sacrificing time. 
4. Do You Have an Estimate for How Long the Project Will Take?
On top of discovering how many projects a contractor is working on simultaneously, you'll also want to ask for an estimate of how long your project may take. You should ask if there's a guarantee around deadlines. Many contractors will build in potential penalties or guarantees if the project runs over the deadline in specific situations. You'll want to get these penalties or guarantees in writing.
A time estimate will also help you plan your budget and timeline for the completed construction project. Depending on the scope of your project, a contractor may only be able to give you a time frame rather than an exact date. However, an experienced contractor will have a general idea of when they'll be able to complete the project.
5. How Common Are Change Orders?
Change orders refer to amendments to a construction contract that change the scope of work for the contractor, typically after unforeseen circumstances. You'll want to ask how likely change orders are for your type of project to help you know what to expect. You should also ask about the process of a change order, so you'll know how they'll handle it and communicate it to you. 
6. What Is Your Payment Schedule?
It's essential to be upfront about payment from the beginning. You'll need to know the payment terms, when payment is due and how much your project costs. Ironing out these details from the start ensures everyone is on the same page, and you won't run into discrepancies down the line.
7. Can I Meet the Team?
You'll want to meet the team that's going to be completing your project. You can get a lot of information from talking with the team and get a feel for their knowledge, expertise and dedication to your project. Meeting the contractor's team also helps build trust, giving you peace of mind throughout the process. If you find a team you trust, you may also work with the same team for your future projects.
Trust Rossi Construction as Your Project Contractor
Rossi Construction has got you covered if you're looking for a high-quality contractor you can trust to complete your project. We have a quality reputation and focus on the details of each project, helping us go above and beyond to meet and exceed your needs. Our team comprises thoroughly vetted, experienced artisans, so you'll know that some of the most knowledgeable experts in the field are handling your project. 
We also individualize the attention we give to each project, helping you find unique solutions to your needs. Our prices are also guaranteed, so you never have to worry about changing your budget in the middle of a project. Get in touch with us today to schedule your free estimate!