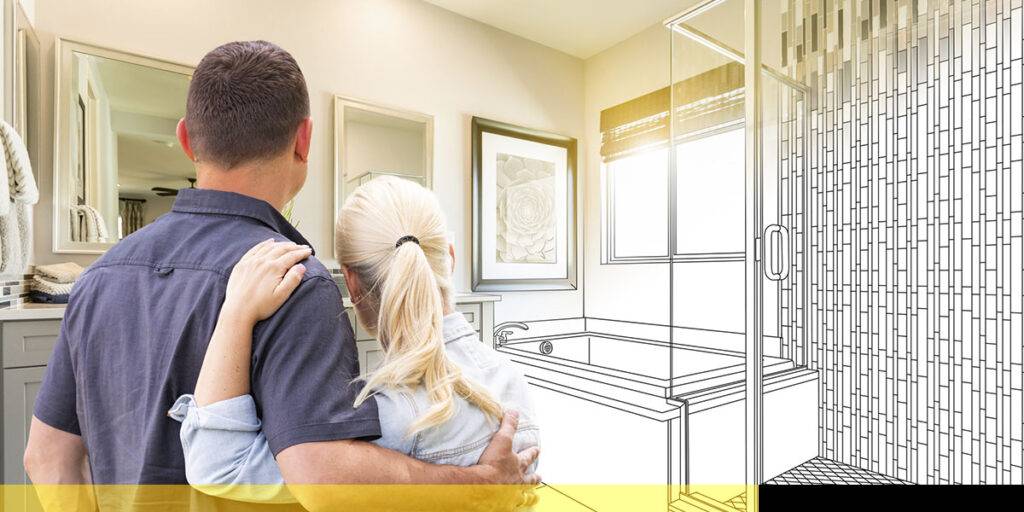 Home additions are home improvement projects that either add space or improve the usability of existing space. Home additions that add room and utility can help you increase the value of your home or make it more practical for your family.
You can make many different types of additions to your home, including extra bedrooms, kitchen space or garage conversions. Below, you'll learn more about the different kinds of home additions and how to choose the best one for your property.
What Are the Best Home Additions?
You can add a new addition to your home in many ways, whether you want to extend an existing space or create something new. However, some room addition ideas are better than others when maximizing your space and adding value to your house. Some of the more popular home additions include:
If you have extra space, such as a covered patio or an unused communal area, you could turn it into a bedroom. You can also add a new section to your home to create an additional bedroom for guests or to serve as a home office. Extra bedrooms are a great way to add value to your home since many growing families look for more space as their family size increases. You may also consider adding an extra bedroom if you expect to expand your family but don't want to move out of the home you love.
2. Attic or Basement Conversions
If you have an attic or basement you're only using for storage — or not at all — you can repurpose the space to create an extra living area, family room or home office. Converting an existing space into something new and more practical is a cost-effective way to add space to your home. However, attics and basements must meet specific requirements to be converted into livable areas.
For example, attics or basements need:
Enough ceiling room
Structurally sound floors and ceilings
Dry basement space
Insulation and ventilation
Unobstructed exits
If your attic or basement meets the proper building codes for a living space, you can move forward with creating a welcoming new addition that provides more room for you and your family.
3. Sunrooms or Enclosed Porches
Sunrooms and enclosed porches are an excellent way to bring more natural light into your home. These additions let you enjoy the outdoors without worrying about weather or intense sunlight interrupting your leisure time. If you already have a porch, creating an enclosure around it is relatively easy — especially for a reputable home addition company — and won't require any major alterations to your home. Building a porch or sunroom without an existing base will be a more substantial project. 
These spaces are a great place to relax, and you can even grow an indoor garden inside. Sunrooms and enclosed porches are particularly popular in places like Florida, where you can enjoy plenty of sunlight with your family.
4. Second Floor Bathrooms
Having a two-story home with the only bathrooms on the first floor can be a major inconvenience, so adding a second-floor bathroom will contribute substantial value to your house. Whether you decide to add extra square footage or convert an unused space into something more practical, this addition will make your family feel more comfortable in their home. 
Second-floor bathrooms also make great master bedroom addition ideas if you don't have one in the home already. You can even use the remodel to make your new bathroom a leisure space to unwind after a long day.
Your kitchen may be more cramped than you want, making it challenging for more than one person to use the space at a time. Cooking with family should be an enjoyable experience, but you can't make the most of it if you're constantly bumping into one another.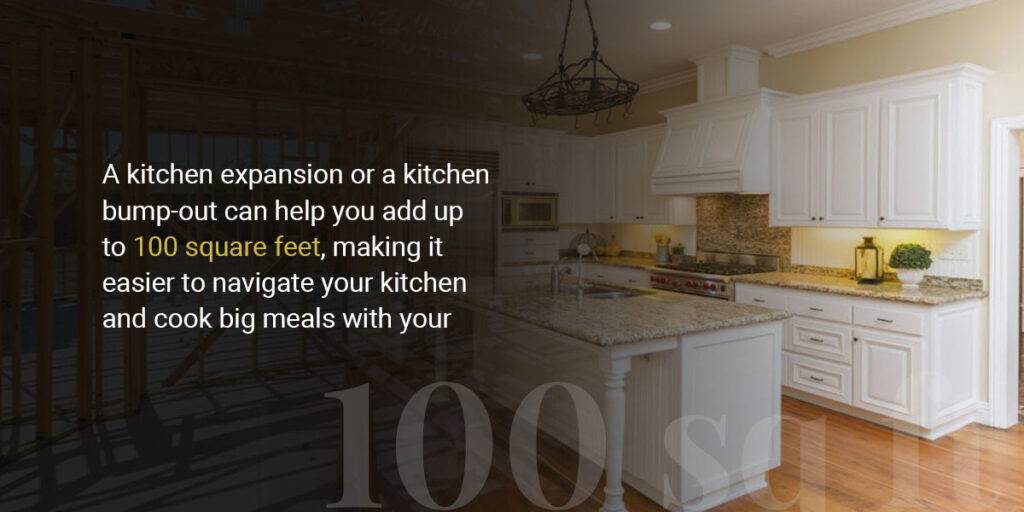 A kitchen expansion or a kitchen bump-out can help you add up to 100 square feet, making it easier to navigate your kitchen and cook big meals with your family. You might add more cabinets, storage and counter space to store your dishes, silverware and other kitchen materials.
If they're not being used for a car, garages often become storage areas that collect clutter — a waste of valuable square footage. Instead, you can use garage conversions to create more livable area for your family. 
You can turn your garage into a living space by replacing the flooring and the garage door with a solid wall, allowing it to become a bedroom, living room, office or any other space you're missing in your home. Most garages will have the structural components necessary for a conversion, but you may need to install HVAC or plumbing depending on your intentions for the space.
How Can a Home Addition Add Value to Your Home?
Before you plan a home addition, you'll want to consider where you live and what's most likely to appeal to homebuyers in the area. For example, if you live in a warmer climate like Florida, home additions that attract attention often include sunrooms to maximize sunshine availability and leisure space.
The primary reason that home additions add value to your property is the square footage increase — generally, anything that increases your home's size will increase its value. Renovating a space to give it modern aesthetics and amenities is another way to make it more desirable to potential homebuyers. An experienced builder can accurately estimate how much a specific addition will increase your home's value.
You could benefit from a home addition if you want more space or to transform an existing area. Some factors to consider when choosing which home addition is most valuable for you include:
Goals: Start by considering what you hope to get out of the new space. For example, if you have a new member of the family on the way or an aging parent moving in, another bedroom may serve you best. If your children are grown and you want more leisure space, a peaceful sunroom may be ideal.
Budget: Your budget will greatly affect what kind of home additions you can make. The price for a home addition varies based on what you're doing and what structure you need to create. In most cases, renovating an existing structure will be more affordable than creating something brand-new.
Family size: Home additions are an investment, so you'll want to ensure they're serving your family for as long as you live in your home. While a kitchen bump-out may seem the most desirable for now, more living space may be better in the long run if you intend to add to your family.  
Value: Many people want to create a home addition to add value to their house. Additions that increase the square footage generally do the most to increase a property's selling price. A qualified and experienced builder can help you estimate how much a specific project will add to your home so you can meet your goals and make the most of your space.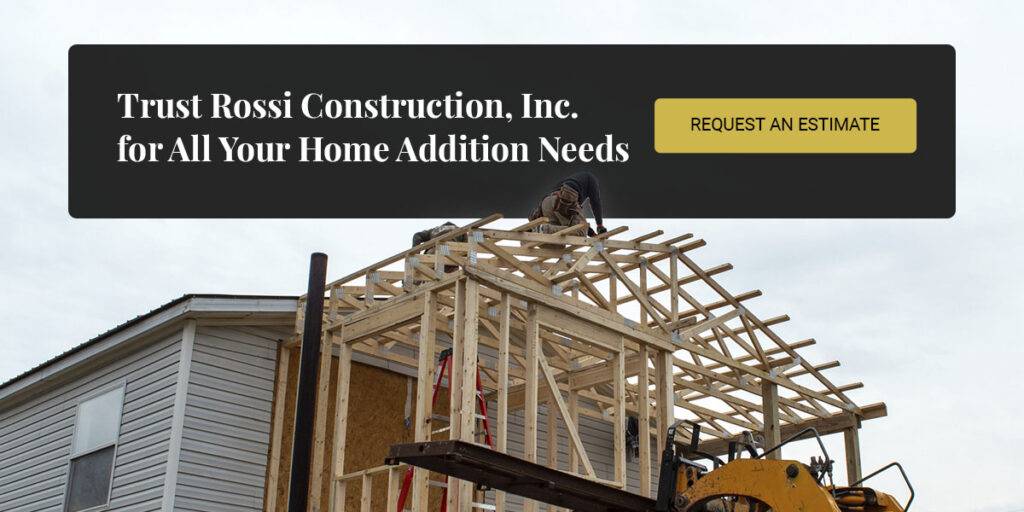 Trust Rossi Construction, Inc. for All Your Home Addition Needs
Whether you want to add an extra bedroom, bathroom, kitchen extension or garage conversion, Rossi Construction, Inc. is the partner you need to perfect your home. We are experts in residential remodeling and home additions, and our skilled team is ready to make your vision a reality. 
Our experts are thoroughly vetted and experienced so you can rest easy. We'll handle your remodel and renovations while you reap the benefits. Contact us today to learn more about our services and how we can help you achieve your dream home!