The most popular home design trends for 2024 will revolutionize the way we think about aesthetics and functionality. Practical trends focus on making homes more efficient, convenient and eco-friendly, while the latest fads bring a fresh sense of vivacity to indoor spaces.
What Is the Next Trend in Home Design?
The primary interior design trend for the upcoming year focuses on how all elements of a home work together. People are tuning into how their homes can reduce energy consumption, increase convenience, boost connection and improve health. Embrace the following ideas to create a healthier, more efficient home.
Multifunctional Spaces
Multifunctional spaces allow you to optimize each room and create a better rhythm. Since so many people now work from home, families must adapt and accommodate. Many households also transform their spaces to cultivate more social interaction. The result is multifunctionality. Your kitchen island or spare bedroom may double as a workspace, and your side tables may become seating when guests visit. Consider the following elements you can use to make your home more multifunctional:
Built-in storage
Convertible furniture like fold-up beds
Modular sofas
Multifunctional furniture, such as stools that serve as end tables
Expandable dining tables
Kitchen/dining room combinations to accommodate simultaneous cooking and socializing
Indoor play areas for children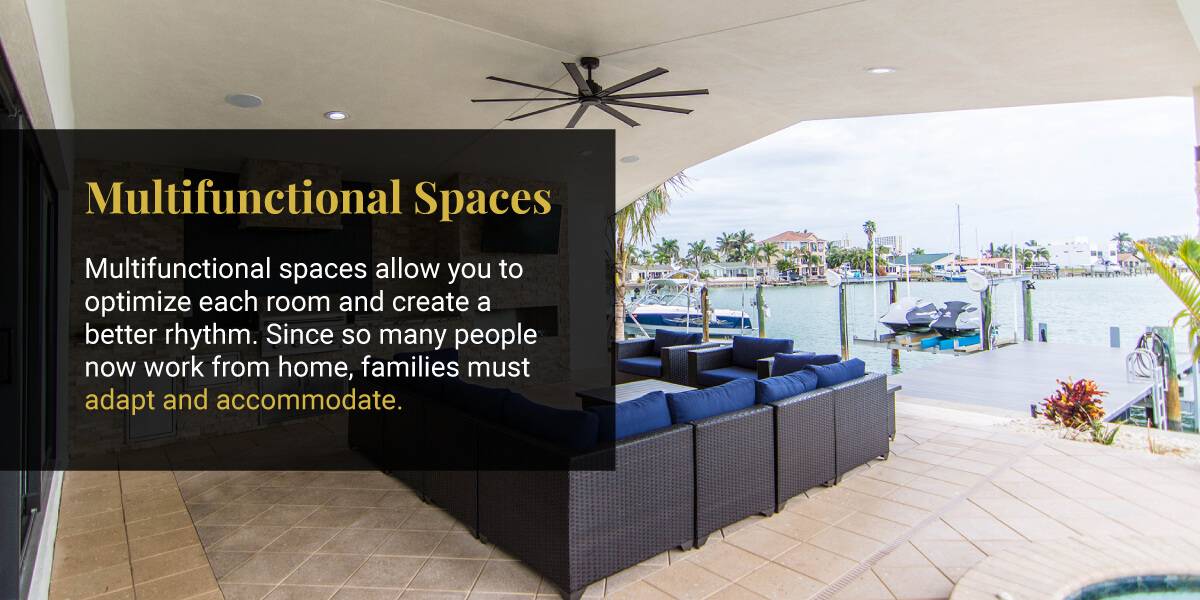 Open Floor Plans
Sectioned-off spaces and open floor plans are equally popular this year, but an open floor plan is more versatile. With an open floor plan, you can create more multifunctional spaces like the kitchen/dining room combination mentioned above. For example, opening your kitchen to your living room creates a better flow and more space for socialization and connection. You can prepare meals while watching a movie together or help one child with their homework at the table while another plays in the living room.
An open floor plan also contributes to energy efficiency. It lets in more natural light and increases air circulation, reducing energy consumption for cooling and lighting. If you want to combine an open floor plan with the feel of sectioned-off spaces, you can use furniture and rugs to create more defined areas.
Eco-Friendly Designs
As reducing greenhouse gas emissions becomes more crucial, homeowners are choosing more environmentally friendly home designs. Discuss the following options with your architect to build a more sustainable home.
1. Eco-Friendly Elements
Architects are building more energy-efficient homes by incorporating the following elements:
2. Less Square Footage
In addition to sustainable, eco-friendly elements, smaller home builds are becoming more popular. A home with a smaller footprint requires fewer materials and consumes less energy to maintain comfortable indoor temperatures. While you should always choose a home layout that meets your family's needs, selecting the smallest option reduces your carbon consumption.
The open floor plans and multifunctional spaces discussed above can help you design a smaller home that accommodates your family's size and lifestyle. An open floor plan creates a more spacious atmosphere, resulting in a home that feels roomy with minimal square footage.
3. Optimized Structural Orientation
A house's orientation also contributes to energy efficiency. For example, limiting south-facing windows or planting trees in front of them can help lower cooling costs. South-facing windows let in the most sunshine during the hottest part of the day, and reducing the heat entering your home also uses less energy. Choosing a layout that optimizes natural light while reducing heat is an excellent way to decrease energy costs throughout the year.
Wellness Elements
Wellness is a 2024 home design trend you can incorporate to increase mental and physical health. Designating rooms or small areas for practices such as yoga or meditation can help you practice a healthier lifestyle. Choose an area of your home that receives plenty of natural light to boost mental health. You can also place plants around your home to increase positive emotions and maintain clean indoor air.
Home Automation
Increased home automation is another popular 2024 home design trend. Technology becomes more prominent in home design as homeowners incorporate integrated lighting, motion sensors and smart security systems. Appliances such as thermostat controls increase energy efficiency and convenience. For example, you can set a dryer to complete a load of clothes before you get home or adjust your smart thermostat to conserve energy while you're away.
Interior Home Design Trends in 2024
Though functionality, technology and energy efficiency are the primary highlights in home construction and layouts, there is also an exciting shift in interior aesthetics. Some current home design trends will exit center stage in 2024 as new ones replace them. 
Eclectic details and bold statements are taking the lead in new Florida home decor trends. People now use their homes to celebrate their cultures and express their personalities. Consider these innovative ways you can embrace the upcoming year's interior design trends and give your living space a punch of vitality.
Bright Walls in Place of the Previous All-White Trend
All-white walls look clean and fresh, but they are less prevalent than they have been in the past 10 years. More homeowners are brightening their walls with vibrant colors, adding pops of personality. You can paint an entire room a gorgeous green shade or add a blue accent wall to enliven your spaces.
Undone Maximalism to Replace the Minimalist Trend
While minimalism has been a dominant trend for several years, people have gradually realized how challenging it is to sustain. Nearly empty homes may appear tidy and orderly, but the new undone maximalism trend offers a warmer, welcoming atmosphere. Beautiful book stacks, exciting patterns and open shelves express that a room is full of personality. 
A Touch of Vintage
Vintage always has a place in the design world, and this year, vintage lamps are the focus. Unique vintage lamps add warmth to a space and make for interesting focal points.
Abstract Art
If the simplistic beauty of Wabi-Sabi and the timelessness of vintage lamps aren't your style, you may appreciate the growing statement art trend more. Large, abstract canvases add personality, vibrancy and texture for a fun boldness in your home. Browsing local art galleries is a fantastic way to add statement art to your home decor.
Trust Rossi Construction With Your Building and Remodeling Needs
The latest home design trends can help you build or remodel your home to be more efficient, convenient, healthy and vibrant. Partner with Rossi Construction to help you design and build your ideal house. Our experienced craftspeople use green building solutions to complete each project with eco-friendly practices in mind, and we can work closely with you to create a gorgeous, functional home. Request an estimate to learn more about how we can bring your design vision to life.