Design Elements for a Modern Home
Modern architecture and design are among the most popular trends for today's homeowners. This style relies heavily on simple elements to cultivate functional and aesthetically pleasing results. Here, we break down modern home design ideas and some of the other essential principles to keep in mind when creating your dream space.
Discover how to make your home look modern with these key design elements.
6 Key Design Elements for a Modern Home
Explore the following design elements that will help you create a beautiful, modern home:
1. Simplicity and Minimalism
Less is definitely more when working with modern design elements. Many people want to create a home environment that feels like their very own sanctuary. Choosing simple, minimalist items and forgoing excessive ornamentation is an effective way to foster a more stress-free environment.
Simple does not have to mean your space will look boring or sterile. Modern design can feature sophisticated elements and textures that bring a touch of comfort and intrigue to the space. 
2. Clean Lines
Modern design favors linearity over decorative or curvilinear geometry. Look for prominent horizontal and vertical elements. You'll notice most modern homes are square or rectangular.
Clean lines in your interiors allow you to create a space that looks especially tidy and elegant. Take a look around your room and identify any zones where there is a disturbance, meaning different elements are blending together. For example, you may have overflowing baskets or decorations hanging off your shelves. You'll want to tidy up those areas to align with modern design. 
Plus, having clean, crisp lines around your home's exterior is a great way to boost curb appeal and create cohesion.
3. Mixing Materials
Modern homes often feature a mixture of the following popular materials:
Whether you're choosing materials for your countertops, floors or window treatments, keep modern design principles in mind. Look for textures that complement each other while still adding a unique flair to your space.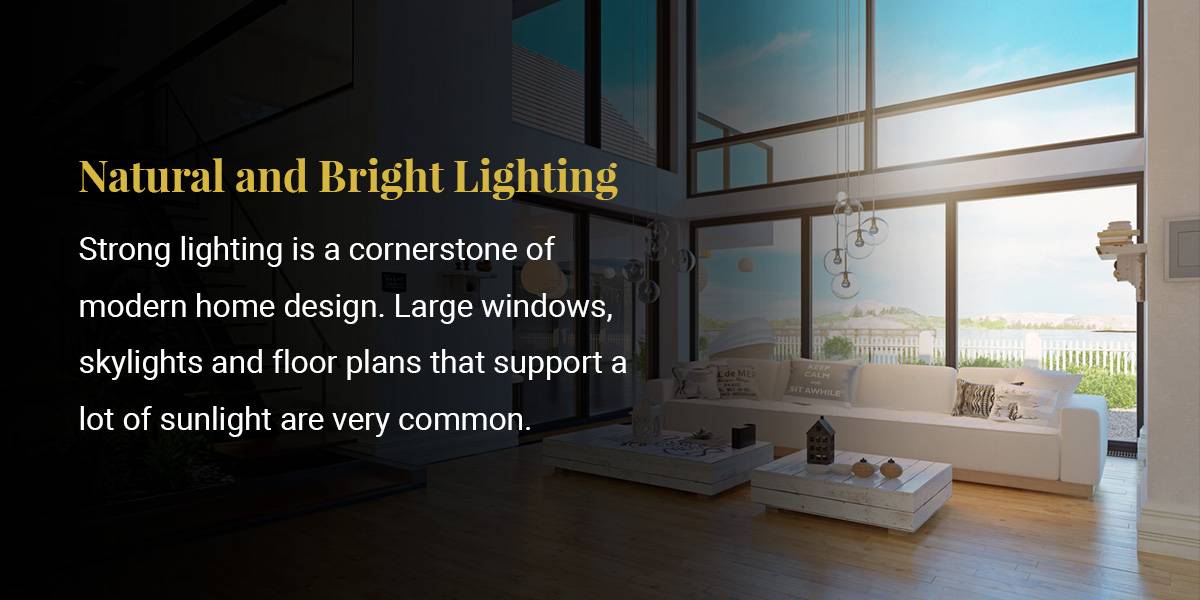 4. Natural and Bright Lighting
Strong lighting is a cornerstone of modern home design. Large windows, skylights and floor plans that support a lot of sunlight are very common. If you are remodeling your current house, you may want to consider including an atrium or sunroom. 
The light in your home can have a direct impact on your family's overall psychological state, so making plans that incorporate lots of natural light is a must. 
5. Interior and Exterior Cohesion
When designing a modern home, continuity and cohesion are important. Your entire house should tie together and make visual sense. For instance, you probably wouldn't choose a cottage-style exterior and a modern minimalist interior. 
The inside and outside should match with the materials carrying over from interior to exterior. Strategic placement of windows and doors will play a key role in achieving a cohesive look.
6. Open Floor Plans
Most modern home layouts tend to favor open floor plans that combine related areas like the kitchen and dining room. Open floor plans make hosting simple, and they perfectly fit a minimalist aesthetic. Without walls dividing up your living space, you can encourage your loved ones to connect and spend time together in one zone.
Open layouts also allow for more light to spill into your home, contributing to a feeling of airiness and ease.
Tips for Decorating a Modern Home
When putting the finishing touches on your space, you'll want to ensure you're choosing decor pieces that make sense with your modern design.
To help you master the art of modern home decor, explore the following tips and tricks:
1. Create a Mood Board for Each Space
Creating mood boards is a great way to plan how you'll style different areas of your home. You can make one using online sites and tools, such as Pinterest, to collect inspirational images for each space. Then, you'll put the images together in one document or Pinterest board to get a final sense of your overall vision.
If you want to take your mood boards to the next level, you can take an image of your actual space and use digital tools to superimpose different decor pieces into the room. Digital mock-ups are an awesome way to visualize how things will look together and test different decor combinations.
2. Optimize Your Storage Solutions
An effective way to make your modern design style pop is to optimize your storage solutions to eliminate as much clutter as possible.
Again, modern home design relies on clean lines and sleek furnishings. The last thing you want is for miscellaneous items, like phone chargers or video game consoles, around your home to interfere with the tidy, peaceful ambiance you've carefully created. Getting an armoire or cabinet with doors is great for concealing unsightly items and increasing your storage space. The tidier you can keep your modern home, the better.
3. Use Statement Pieces Sparingly
Most modern homes look best when the decor is minimal and complementary. However, simple doesn't have to mean boring! You can create a clean and modern space with interesting statement pieces that your guests will gush over.
The key here is to use these items sparingly — stick with one or two statement pieces in each room. You don't want them to compete for attention, make the room look busy or negatively impact the sleek, contemporary vibe you are going for.
And while modern design typically favors a neutral color palette, adding a pop of color here and there can be a great way to make your space feel more personal without overdoing it.
4. Choose Seasonal Decor Wisely
Our final tip for decorating a modern home is to choose your seasonal decor wisely. You'll want to find pieces that coincide with your home's style and don't look out of place. For example, rustic Christmas decor might not be the best fit for your modern living room.
You've spent endless hours curating your space to look and feel a certain way, and the pieces you use to decorate for the holidays should complement the rest of your design.
Request a Free Estimate From Rossi Construction Today
Building a new home and contemplating a modern home design? You've come to the right place. 
At Rossi Construction, we know how to build a modern home that looks beautiful and is highly functional. As an award-winning construction company, we understand the ins and outs of modern design elements that work together to cultivate a chic space. Our team will guide you throughout the process and help you find the upgrades and changes you want to create your dream home. 
Are you ready to get started? Request a complimentary estimate from Rossi Construction today!