Even if you love your home, you may be considering an addition to create more space or accommodate a growing family. A Florida room can help expand the square footage of your home, increasing its value and overall usability. You can build a place for guests, add a bedroom for a new family member, make existing areas larger or create more space for recreational activities.
Regardless of why you want to add a Florida room to your home, Rossi Construction can help. We have decades of experience satisfying our clients' construction needs, from new builds to remodels.
What Is a Florida Room? 
The term "Florida room" is a colloquial name given to enclosed porch additions in Florida homes. These porches are also called solariums meaning "place of sunlight" or sunrooms. Usually, they're an extension of the main house and are typically positioned in the rear of the home near the kitchen or off of the living room. 
Essentially, Florida rooms are home additions that let you bring the outdoors, indoors. It's a way to enjoy the abundant Florida sunshine while still having the comfort of indoor climate control. The natural light makes for a living space that's perfect for activities such as reading, working and art. A Florida sunroom also provides health benefits such as elevating your mood, boosting energy and reducing stress.
Florida Room Design Ideas
If you're considering a Florida room renovation, there are plenty of ideas to help expand your space. These additions can help develop existing space, such as a sitting room, or create an extra room for a bedroom, an additional living space or a recreational area. Some general ideas for a Florida room addition include:
Adding room for a growing family or places for guests to stay
Creating new or expanding current functional spaces, like kitchens or common areas
Creating more storage space
You can also use a Florida room addition to connect an old space to a new space, such as a porch that becomes a year-round sitting area. These projects can add square footage to your home while creating more space and making your home more comfortable.
How To Use Your Florida Room
Are you looking for more specific ideas for how to use a brand-new Florida room? These spaces are highly flexible, so you have nearly countless options. Before you get started on your Florida room renovation or addition, we'll provide you with some of the most popular uses of these sunrooms to give you some inspiration.
Relaxation or Sitting Area
A comfortable seating area is the perfect use for your Florida room. Add some lounge chairs or a sofa and you'll have a cozy spot to curl up and enjoy the Florida sunshine, creating the perfect afternoon nap spot! For your morning routine, you could even incorporate a breakfast nook to enjoy your cup of coffee and a healthy breakfast to start your day.
Greenhouse
Adding some plants or flowers to your Florida Room is a great way to bring in some color and life. Choose potted plants and flowers that thrive in bright, sunny conditions for the best results. Consider a small water feature for additional tranquility.
Entertainment Space
If you love to entertain, make your sunroom the perfect gathering spot. Furnish it with a large table and comfortable chairs. You could even build a cooking island with a wine refrigerator and a wet bar for cocktails. Stock your bar area with your favorite spirits, mixers and a variety of glasses.
Home Office
If you need a space to work from home, your Florida room could be the perfect solution. Just move in your desk, shelving and anything else you need, and you'll have a private and calm home work environment. Florida rooms often have private entrances, which makes the space especially ideal should you require a meeting space.
Reading Nook
If you love to read, why not create a special reading nook in your Florida room? Add a comfortable chair and some shelves for your books, or opt for built-ins, and you'll have a great spot to relax with a good book.
Art Room
With the natural light that Florida rooms afford, many artists find it the ideal room for painting and sketching. Take advantage of this space for all of your creative projects. From scrapbooking, sewing and more, you'll appreciate having your craft supplies neatly organized in your Florida room.
Children's Playroom
Store toys, art and craft supplies, learning activities and more. Your children will appreciate a dedicated space for all the things they like to create and play with indoors. You could even set up a homework station to establish a routine for completing assignments.
Home Gym
If your space allows, equip your Florida room with lightweight workout equipment and free weights, leaving enough space to actually move around. Having all your workout equipment in one area motivates you to put it to good use. Schedule a time in your day for exercise and make it happen!
Guest Room
If you often have guests stay with you, your Florida room can make the perfect guest room. Add a bed and some linens and you'll have a comfortable space for your guests to enjoy.
However you decide to use your Florida room, don't forget to decorate it to reflect your style and personality. Fill it with your favorite colors, furniture and decorations to make it truly your own.
How Rossi Construction Can Help With Your Florida Room Addition
Rossi Construction has served our customers since 1979, providing high-quality construction and contracting services to help homeowners realize their vision. Our work can increase your space and property value while improving your home's appearance. Our experts can handle a range of residential construction needs, whether you want to expand a room or create a new space connected to your home.
Some of the residential construction services we offer include:
New builds: A new build is an excellent way to add a new addition to your home, allowing you to add a second floor, screened-in porch, bedroom, bathroom or other space that you want or need in your home. 
Remodels: You can add more space to your home by renovating existing parts, such as your bedrooms, kitchens or bathrooms. We can help you remodel these areas to gain more space, allowing you to install kitchen islands or other fixtures you may not have room for with your home's current layout. 
Custom or luxury designs and execution: We can help you develop a design for your new space, including what materials and fixtures would look best. Our team members are experts in their trade and aim to exceed our clients' expectations with every project.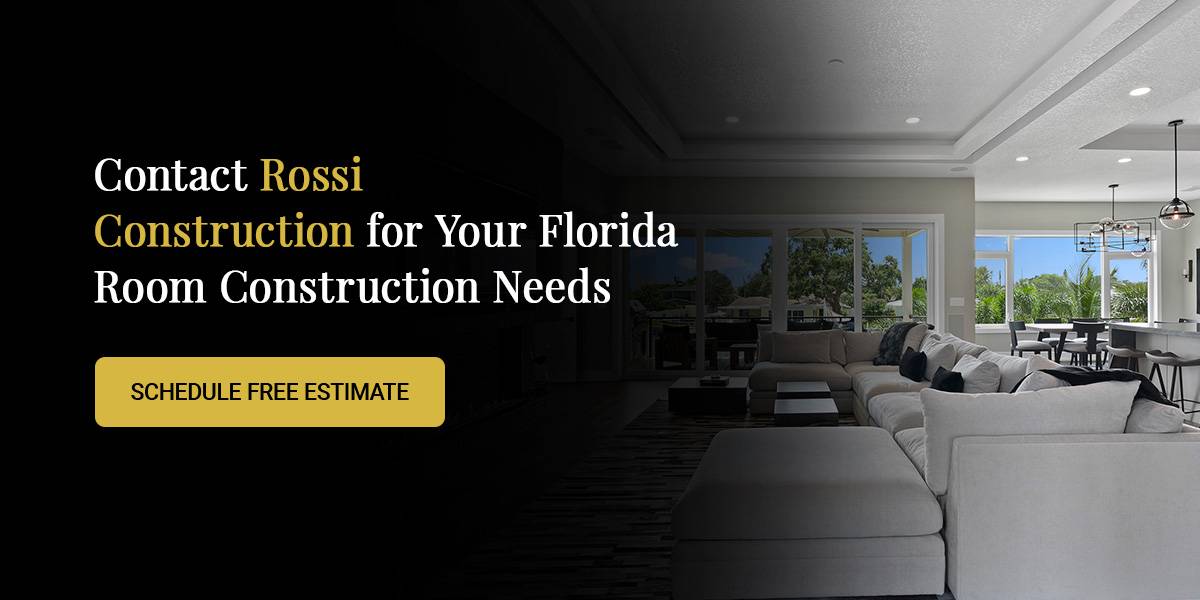 Contact Rossi Construction for Your Florida Room Construction Needs
If you're considering adding a Florida room to your space or renovating your home, look no further than Rossi Construction. Our construction and remodeling services can help you achieve your vision for your home, whether you want to add a new room or remodel an existing space. Contact us to learn more about our room construction and renovation services in Florida. You can also request an estimate!