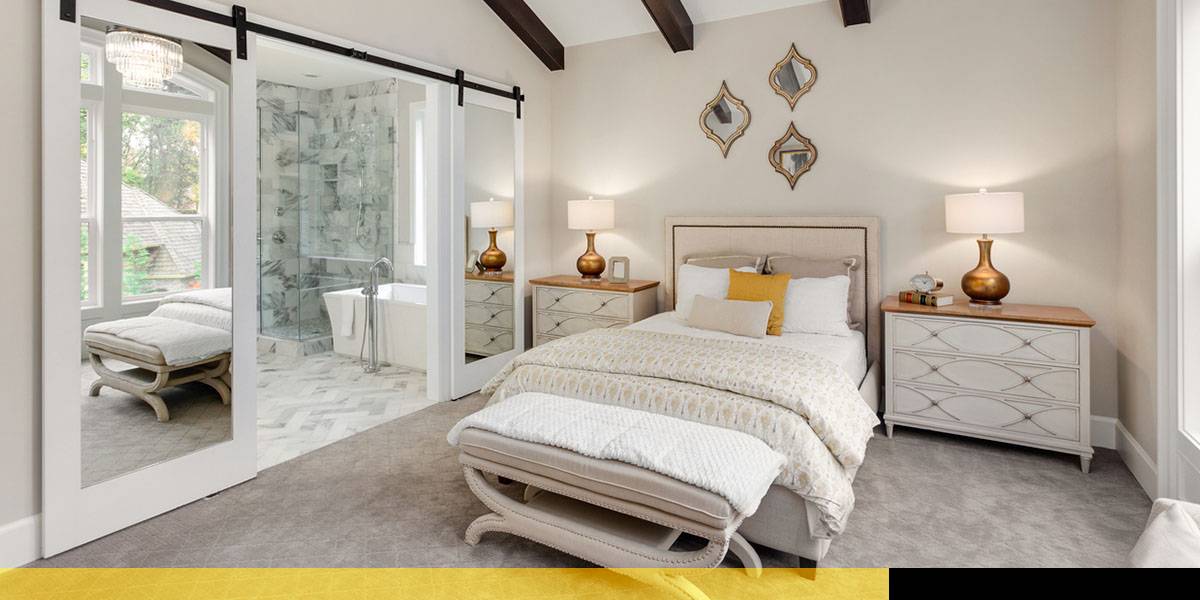 Remodeling your home or constructing a new home allows you to choose the best master bedroom location for your needs. The ideal location for a master bedroom depends on your preferred accessibility, amount of natural light and noise level. These factors can help you choose the best floor level and direction for your new master bedroom.
Where Should the Master Bedroom Be in a House?
A master bedroom is a home's largest bedroom, and homeowners typically favor it for its spaciousness. While its size and generous space make a master bedroom appealing, other factors can increase or decrease its charm. Master bedrooms can be upstairs or downstairs, in a home's front or back section, and facing any direction. Determining the best master bedroom location depends on your preferences regarding factors such as noise level, natural light and accessibility. 
Should a Master Bedroom Be on the First or Second Floor?
The best location for a master bedroom partially depends on your need for accessibility. Before deciding on the first or second floor for your master bedroom, consider the following factors:
Mobility: If you have limited mobility due to age or physical condition, a first-floor master bedroom is the best option. Placing a master bedroom on a home's first floor makes it easy to access the home's main sections without having to walk up and down a staircase. A first-floor master bedroom is also convenient if you experience an injury that temporarily limits your mobility.
Children: If you have young children in your family, you may want to consider their bedroom placements in relation to your master bedroom. Placing your master bedroom on the same floor as your children's rooms makes it easier for them to reach your room if they need you. It also makes monitoring an infant or toddler easier, allowing you to reach them quickly if they need you.
Older household members: Similar to having children, having older family members in your home is a considerable factor. Placing your master bedroom on the first floor allows you to reach them easily if they need your help.
A home's first and second floors are both excellent master bedroom location options if you have full mobility and no household members who require close attention and care. However, the first floor is ideal for a master bedroom if your family members require frequent care or you need to easily access your most-used rooms. 
Considering your plans for your home is also essential. If you want it to be your forever home and plan to age in it, a first-floor master bedroom can benefit you in the future.
The benefit of a second-floor master bedroom is that it's more secluded than a first-floor bedroom. With a second-floor bedroom, you can retreat when you need to rest easier than you could with a first-floor bedroom. This is especially beneficial if you have frequent gatherings or family members who enjoy noisy games and activities in the living room.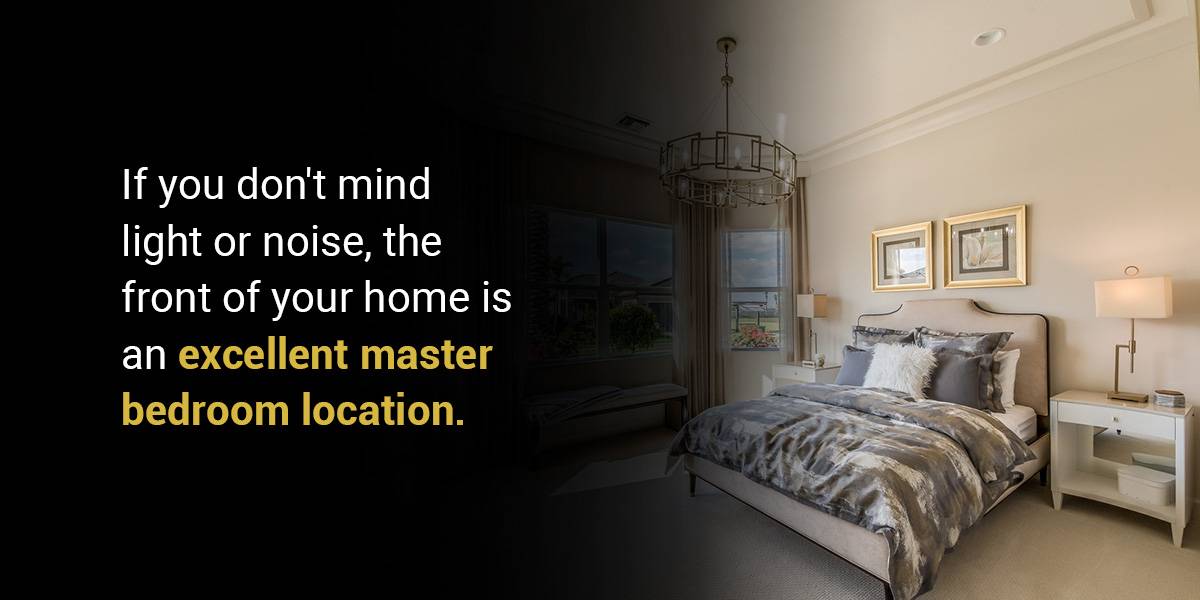 Is the Front or Back of the House Better for a Master Bedroom?
Determining whether the front or back of your house is best for your master bedroom depends on how much you mind light and noise. Placing your bedroom in the front of your home gives it closer proximity to the street, opening it up to a view of your neighborhood, traffic and streetlights if applicable. 
If you don't mind light or noise, the front of your home is an excellent master bedroom location. You may find the sound of cars passing by familiar, enjoy the dim glow of street lights and have peace of mind that you can easily see what's happening in your neighborhood. Placing your master bedroom in the front of your home also makes it easier to hear what happens in your home because it is most likely near your kitchen and living room.
The back of your house is the ideal master bedroom location if you prefer a quieter atmosphere. The back of the house is farther away from the street and the noisier areas of your house. A master bedroom in the back of your home is perfect for curling up with a good book, listening to crickets chirp, gazing at the stars through your window or watching your kids play in the backyard. 
Should the Master Bedroom be on the North, South, East or West Side of a House? 
Room orientation affects natural light in your master bedroom. A room with plenty of natural light can create a beautiful aesthetic, and it can help you keep your space warm in the winter. A room with less natural light can help you sleep better if you're sensitive to light, and it can keep your space cooler in the summer. Natural light will affect your master bedroom's appearance and temperature depending on the following directions:
1. North
A north-facing master bedroom receives indirect natural light, creating a softer aesthetic. This direction provides the least amount of natural light, so it's an ideal option if you're sensitive to light. If you enjoy a darker room and sleeping in with minimal light, placing your room on the north side of your house can help you limit natural light.
2. South
South-facing master bedrooms let in consistent warm light during daytime hours, making them very bright. They receive a significant amount of warmer light between later morning hours and mid-afternoon hours. This direction is ideal if you want your interior bedroom colors to appear brighter.
3. East
An east-facing master bedroom receives plenty of natural light in the morning but little natural light during the afternoon and evening hours. If you prefer a cooler room with less natural light throughout the day, an east-facing master bedroom is an excellent choice.
4. West
If you enjoy watching the sunset from your bedroom and prefer plenty of natural light in the afternoon and evening, place your master bedroom on the west side of your home. Placing your master bedroom in this direction can help you create a relaxing, warm aesthetic with natural orange and gold tones in the evenings.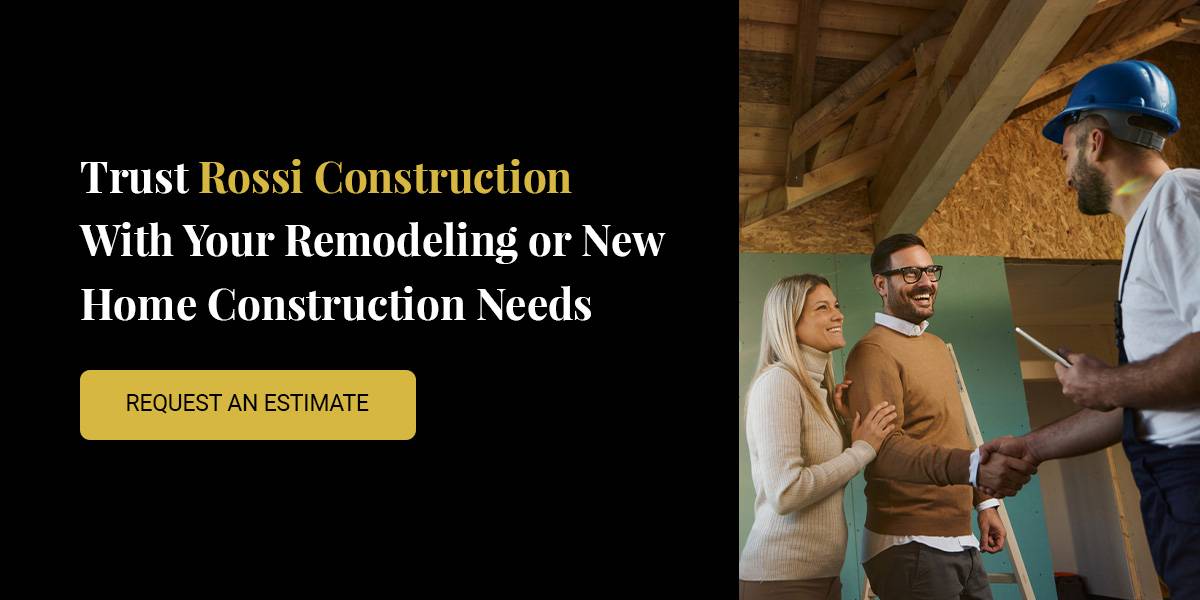 Trust Rossi Construction With Your Remodeling or New Home Construction Needs
Choosing the best master bedroom location depends on your desired noise level, amount of natural light, proximity to family members and accessibility. Considering the floor level and direction you want the room to face can help you create the perfect layout for you and your family.
Rossi Construction can help you consider all your options and construct your home with superior skill. Whether you want to remodel and move your master bedroom or choose the best bedroom location in your new house layout, we are dedicated to helping you achieve the home you desire. 
We complete each job with individualized attention, straightforward communication and a streamlined process. Contact Rossi Construction to learn more about our construction services or request an estimate to start your new home build.