Tips for Planning Your Bathroom Remodel
Whether you're making a few minor alterations for a style upgrade or tackling a major bathroom remodel to increase the value of your St. Petersburg or Tampa home, there are several things to consider before your contractor gets to work. These are our essential tips for planning your bathroom remodel for the best results.
Determine the Extent of the Project
The first tip for planning a bathroom remodel is to decide how much of a change is needed, typically within one of these categories:
Surface alterations: Covering and repairing fixtures and surfaces only
Complete gut: Stripping everything to bare floors and walls and installing new plumbing, wiring and fixtures
Layout revamp: Removing everything and moving plumbing, wiring and fixtures for a different layout
Total renovation: Gutting the bathroom, changing the structure to expand the size and installing plumbing, wiring and fixtures
Clarify Your Needs
An integral part of this bathroom remodeling guide is about clarifying your needs. When planning your bathroom remodel, think about the following crucial factors.
Layout
You may like the existing layout or choose to move some fixtures. Think about your daily routine and what works best for you and your family. For instance, if you have the space, consider a free-standing bathtub. For those without children in the house, a walk-in shower is a space-saving option. A master bathroom should offer efficient utilization of space and comfort. Two people should be able to use the space at a minimum, and it should include plenty of storage space.
Budget
Another bathroom remodel tip is to consider how much you want to spend. Consider that surface alterations could see you spend several thousand dollars, while major bathroom renovations could cost you five figures or more.
Storage
Assess your storage needs based on how many people your bathroom caters to and what types of items you need to store. You may need a built-in or precast shower niche to hold toiletries or a custom vanity to store extra towels and linens. Shelves, cabinets, towel rails and hooks can all be incorporated to provide additional storage space.
Usage
Who will use the bathroom and how many will be inside it at a time will determine the type and number of fixtures to install. A bathtub is essential for young children, so a tub/shower combo may be an option if you want a shower, too. If you're remodeling your master bathroom, installing twin sinks or dual showerheads allows two to use the bathroom at a time. Guest bathrooms generally require the bare essentials, like a shower, sink and toilet.
Style
The material you choose for your bathroom surfaces is one of your most significant style decisions. Natural stone lends an air of sophistication but can be pricey and challenging to maintain. Tiling offers several options and is easy to keep clean.
Your master bathroom should be an extension of the master bedroom. A different style could create a jarring difference. Consider a classic or traditional style for simplistic bathrooms.
A traditionally designed modern bathroom remains timeless, while a modern bathroom design incorporates bright colors with contrasting textures. An eclectic bathroom style has an assortment of dissimilar elements, and a rustic bathroom has the "bringing the outside inside" element.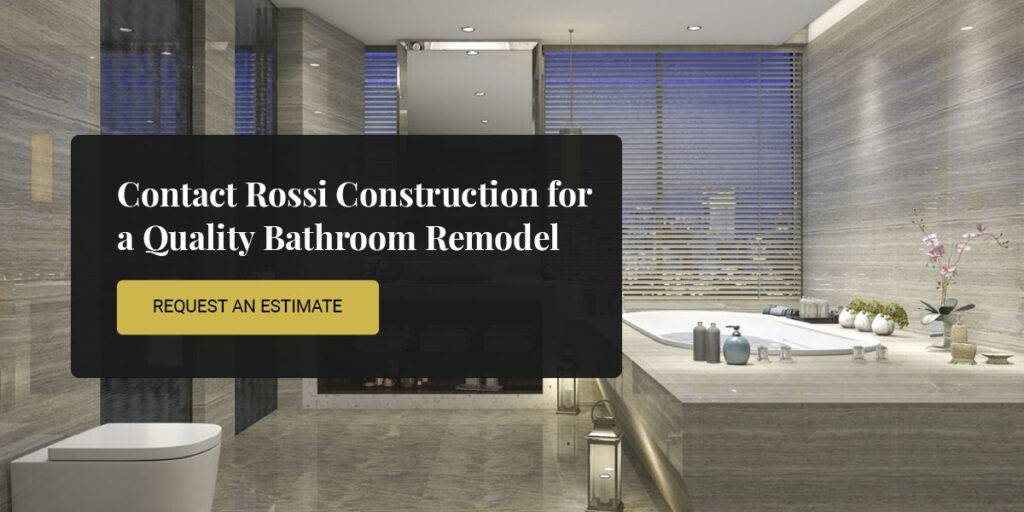 Contact Rossi Construction for a Quality Bathroom Remodel
The bathroom is an excellent place to find solidarity and peace of mind and indulge in undisturbed personal time. Be sure to design your bathroom in a way that will make you feel relaxed.
Named one of the country's top 300 remodelers by Remodeling Magazine and backed by over 20 years of experience working in Florida, Rossi Construction has the knowledge and expertise to breathe life into your bathroom remodel vision. Contact our expert team today to schedule a free estimate.