If you love waking up and falling asleep to the gentle sounds of water reaching the shore, building a waterfront property may seem appealing. Building a house near the water makes every day feel like a getaway, but there is a lot to consider before building the waterfront property of your dreams. 
Before you build a home on the water, consider these tips. 
Before You Buy
The first step in attaining your new home is purchasing the property. While it may seem like a simple decision — choose where you want to be and buy it — you may want to take more time to ensure you're making the right decision. Three steps will prepare you for the buying process:
1. Identify Your Preferred Location
The location shouldn't be the only determining factor in buying property for your waterfront home — but that doesn't mean it's not important. Narrow down your options by determining your home's ideal location. Questions you might ask include the following: 
What is my budget? 
How close do I want to be to the water?
How big do I want my home to be?
How much yard space will I need?
What are the building codes in various locations?
Is it legal to build a house on the property?
Do I have a boat, jet ski or other equipment that will need to be docked or stored nearby?
If I have a boat, is the water deep enough? 
Am I able to add a dock or other feature?
Once you've answered these questions and narrowed down your list of dream locations, you're ready to move on to step two.
2. Conduct Lot Tests
Before you can begin construction, a specialist must conduct lot tests to discover the location's stability and determine if building is possible. The specialist may test and review the following: 
Soil
Erosion history
State of existing sea walls
Flood plains 
Geotechnical reports 
These reports are essential for receiving the permits you need to start building. They help establish how stable a lot is and how close you can place your new home to the water. 
3. Determine Zoning, Permitting and Restrictions 
Regulations are often more specific and in-depth for waterfront properties, and sometimes, the different rules conflict. For instance, zoning laws for waterfront properties aim to limit the property's size and height. However, these regulations might conflict with flood regulations — mandates that require new buildings to be constructed out of the flood plain. Ensure the lot you purchase is big enough for your home while accounting for zoning laws and regulations. 
Additionally, if you want to build your waterfront property in a historical area, you may be dealing with increased regulations that are meant to preserve the character and history of the location. In Tampa, historical reservation is extremely important to the community, and guidelines are supplied by the Architectural Review Commission to preserve the character of historic neighborhoods. If you want to build your waterfront property in one of these neighborhoods, you'll have to follow stricter guidelines regarding your home's size and design. 
While these regulations may seem like an extra barrier on the way to your new home, they're in place for a reason. Strict building codes on waterfront properties help ensure your home stays safe in the midst of flooding or other water conditions. 
4. Determine the Placement and Design of Your Septic System
The placement of your septic system on your waterfront property is crucial. A septic professional will likely conduct soil tests on the property to determine the necessary type of wastewater treatment system. They'll also find the best placement for your septic system. Another aspect is your drainage system, as drainage on waterfront properties should not damage existing slopes or bluffs. Consult a septic designer to ensure you're septic system will work optimally. 
Before You Build
Once you've purchased your waterfront property, the real fun can begin! Following these two steps can ensure you get the waterfront property of your dreams in Tampa: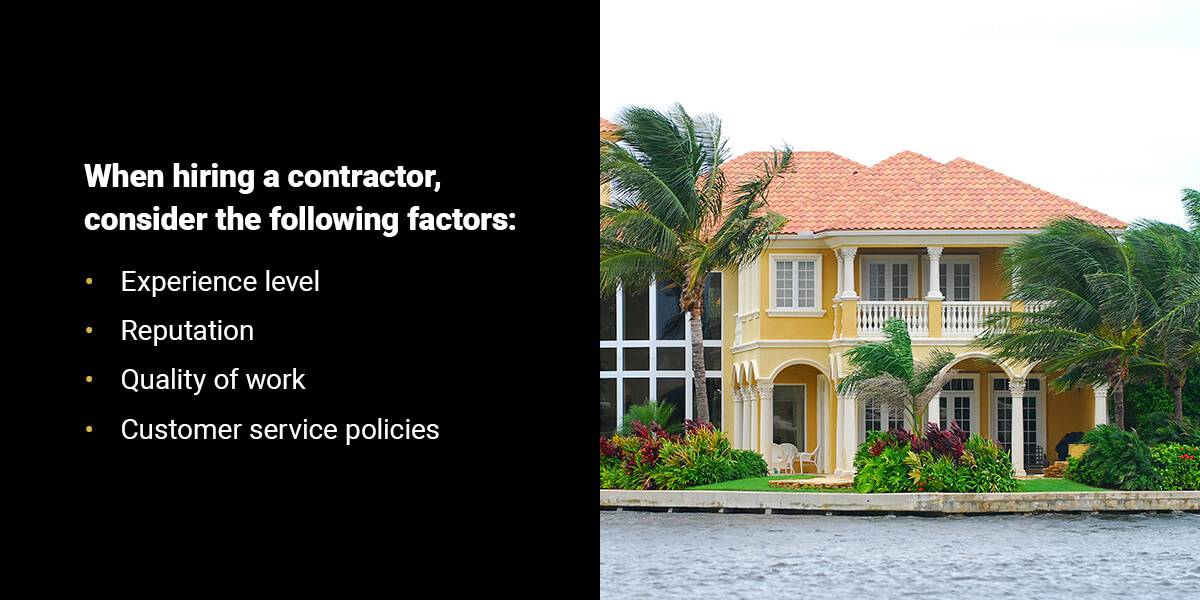 1. Pick the Right Contractor 
Choosing the right contractor for your new waterfront home can ensure your home can withstand all that mother nature has to offer, which sometimes includes flooding and hurricanes in the Tampa area. Since contractors will oversee your construction project from beginning to end — from planning and managing to tracking progress — choosing carefully should be a top priority. 
The right contractor will be trustworthy, honest and dependable. When hiring a contractor, consider the following factors:
Experience level: While years of operation aren't everything, choosing an experienced contractor can make the entire building process smoother. 
Reputation: You can read online reviews of different contracting companies to find one with positive reviews and recommendations. 
Quality of work: Many contracting companies have a website page dedicated to previous projects. Review the photos to get a feel for the company's level of quality and care. 
Customer service policies: A great contractor puts their client at the forefront and strives to keep them involved in the building process. 
2. Hire a Designer to Bring Your Vision to Life 
Finally, it's time to hire a designer to build your waterfront property. A great designer will take a personal approach to your project to ensure you end up with a home that fulfills your biggest hopes. 
When planning your space with your designer, features you might consider include: 
Sunroom: With a sunroom, you can enjoy the outdoors and beautiful scenery from the comfort of your home. You can also listen to the soft pitter-patter of rain without venturing outside. 
Large glass windows: Large glass windows can open up your space and let in lots of natural light. You'll also get a fantastic view of the water to lift your spirits any day of the week. 
Energy-efficient designs: Sunrooms and large glass windows add aesthetic value to your new home, but all that glass can also lead to lost energy. When considering building a waterfront home, consult with your designer to get their insights on how you can conserve energy without sacrificing your waterfront home wishlist. 
Contact Rossi Construction to Discuss Your Waterfront Project
These tips for building a waterfront home can help make the building process more manageable and reduce setbacks. Hiring the right contractor and designer is essential to bringing your waterfront home from dream to reality. At Rossi Construction, we have the experience, team and tools to create your home from the ground up — literally. 
We know how to design and build waterfront properties so that they withstand all that Tampa has to offer. Some of the best practices we follow for waterfront homes are: 
Advanced framing systems
Impact-resistant windows and doors
Concrete walls
Optimal roof pitch for wind deflection
Proper drainage to prevent water from entering the home
To learn more about how we can help you build and design your waterfront home in Tampa, contact us online to request your complementary estimate!