Tag: residential general contractor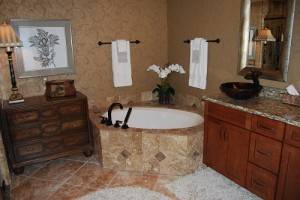 Purchasing a home usually means that you will be buying an outdated bathroom or, possibly worse, you will be buying the updated bathroom that has the very definite stamp of the previous Tampa homeowner.  Since your bathroom is a prominent space in your home, you may look to do a Tampa bathroom remodel.  Explore a lot of bathroom remodeling tips and tricks, but make sure that any choices follow simple good design and that your bathroom remodeling project flows with the rest of the house.  A bathroom remodeling project that is well done enhances your quality of life and increases the value of your Tampa home.
You will want your bathroom remodeling project to be a practice in creating your dream bathroom, but you will want to make sure the design suits the property.  A mid-century modern bathroom looks odd in a contemporary house, but the newest fixtures from your favorite design catalogue fits well with the overall style of the rest of your house.  Always remember that you want to take your unique style and ideas for a bathroom remodeling project, and match it with elements fitting the style of your entire house.  When your remodel fits with the bigger part of the house, it will not feel dated quickly and the bathroom remodeling project will appeal to buyers if you sell.
Every bathroom, just like any room in your house, needs a focal point.  A bathroom remodeling project planned without the aid of a professional often fails to overlook the concept of something like unique fixtures, art of some kind or a unique window.  Instead, most of us tend to put our own focus on ideas like making sure that there is enough space for all of the towels.  This is truly one of the points in any bathroom remodeling project where it pays to have a trained professional lend their opinion.
Small bathrooms are a reality in many of the homes around the Tampa and St. Petersburg areas but, no matter how much your bathroom remodeling project changes things up, the reality is that small is ALWAYS small.  If you can, you may want to talk to a professional about stealing a little extra space from an unused closet or you could less ideally do the same from a spare bedroom.  The best way to accomplish the square footage is always going to be a closet losing room, but the additional room for your bathroom remodeling project makes it all worthwhile.
Contact the professionals today at Rossi Construction, Inc. to discuss your bathroom remodeling dreams!  We can be reached at 813.436.0177 to discuss bathroom remodeling projects, as well as other dream project for your home.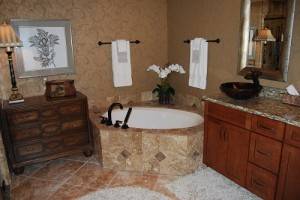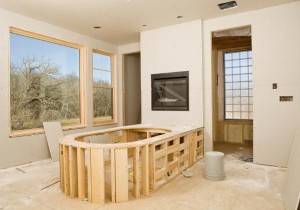 The first milestone in a remodeling project is to choose a general contractor to handle the Tampa remodeling project.  This contractor will have a major impact on the overall quality of the project.  He or she will also help determine the final cost of the remodeling project, provide potential design concepts and insights, guide you through the entire remodeling project and put their unique stamp on the overall project.
This means that who you hire as a general contractor is a decision that requires some very deliberate thought.
After you have completed initial research on general contractors, you will have narrowed the list of potential general contractors to two or three top choices that you want to talk to.  This list will include the credible and qualified candidates from Rossi Construction, Inc., and it is important to structure the substance of your initial consultation around the idea of sharing your first thoughts for your remodel plans.  Ask for advice and opinions from the contractor regarding your initial plans for the remodel, and do not be afraid to take into account how personalities will mesh.  Do not forget to ask for credentials.
Finding a general contractor can be nerve wracking, most of us worry that we may forget what questions to ask.  This article is intended to give you a head-start, an opportunity to stay on the right path as you work your way through the initial consultation with a general contractor.
Never be afraid to ask questions!
Do not be embarrassed to ask any general contractor these questions.  Remembering that you are considering entering into a business relationship with any general contractor, and these questions are meant to establish a solid working relationship.
Can you share some written references?
A solid general contractor will have a written list of references easily at hand.  The best general contractors have that list in your hand before you even remember that it is the first entry on your "list of questions to ask a general contractor."  If the general contractor is not willing to give you a list of references, really consider what they say as well as how they say it when answering other questions.
Can you provide a proposed timeline and work process?
Most professional general contractors will have this information available for you in writing, and you will want the list to include things like; who will be in charge of supervising the project; work hours and days; length of a project from demo to completion and milestones for payments.
Do you have experience with this kind of Tampa remodeling project?
Strange economic times have contractors looking outside of their area of expertise, finding some contractors from the commercial field in residential remodeling projects.  On the other end of the spectrum, residential contractors feeling the pinch are also doing small commercial improvement projects.  Satisfy yourself that the contractor you are working with is competent and credible in handling your residential remodeling project.
Keep in mind that these questions are meant to serve as a guide in your search for a Tampa general contractor.  The team from Rossi Construction, Inc. will continue to add ideas and concepts to this list but, in the meantime, you are invited to contact our office at 813-436-0177 to schedule an initial consultation for your project!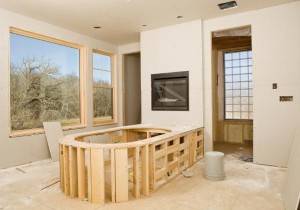 A Tampa residential general contractor is a home remodeling professional who organizes and executes the overall completion of larger remodeling projects.  Many times, a Tampa residential general contractor may mistakenly be called a simple home improvement professional.  This is a misconception the general contractor will quickly quash, by explaining that a residential general contractor deals with lengthy projects that incorporate unique design ideas and architectural concepts.  The goal of all plans developed by the residential general contractor is to improve the quality of life within the home, building a better at home experience, by either expanding or utilizing space that is currently dead in a Tampa home.
A contractor with a focus on home improvements is typically tasked with smaller projects, such as the installation of new windows; flooring; kitchen cabinets and exterior improvements to a Tampa residence.  A good way to think of the Tampa residential general contractor, is that he is in charge of all subcontractors handling the smaller parts of a remodeling project.
When do I need to hire a Tampa residential general contractor?
Most Tampa homeowners do not realize that an average kitchen remodeling project takes roughly six to eight weeks.  In addition to time, the project also requires a Tampa electrician; a plumber; a cabinet contractor; a pro capable of handling flooring installation and someone to handle appliance installation.  When you add a painter into the equation, you end up with a lot of people handling a half dozen individual kitchen remodeling projects.
The genius of hiring a Tampa residential contractor is that he is capable of coordinating all of the professionals, scheduling them in a workable format and he will tell you if the price that you are paying makes the price "right."  The Tampa residential contractor also comes with the added bonus of possessing the skills required to complete some of the remodeling work on his own, whereas most homeowners do not know anything about installation of cabinets.
If I am ready to hire a Tampa residential general contractor, who do I need to call?
The professionals from Rossi Construction, Inc. are ready, willing and able to become the Tampa residential contractor overseeing all aspects of your Tampa kitchen remodeling project.  Rossi Construction, Inc. can be reached by calling 813.436.0177.