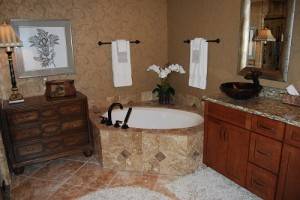 While a bathroom is often one of the smallest rooms in your Tampa home, they are often the most used and valued space in a Tampa home and remain of the smartest remodeling investments in terms of return on the investment.  Beyond allowing you to prepare for the practical elements of a day, the bathroom can provide a Tampa home owner with a place to escape the stresses of daily life.  When remodeling your bathroom, it is a fantastic idea to consider these tips.
You will want to start any Tampa remodeling project with a budget.  The overall budget will impact materials you select for the bathroom renovation, and it will also keep you within the boundaries of designs you are considering.
Define the role and requirement of the new bathroom in your Tampa home.  Planning a remodeling project involves more than figuring out where the basic fixtures like a new sink or bath tub will be positioned.
Switching your sink and toilet around may look like an easy shuffle, but the problem lies in all of the expenses involved in moving the plumbing.
Make sure that you have enough space to accommodate all fittings you choose as well as room to move the fittings into position.
Make provisions for future plumbing, and allow for access to potential trouble plumbing spots.  Consider fitting removable panels instead of sealing these utilities behind fixed walls.
Decide if you need to make any changes to existing services and whether structural work is required. Measure up and note the position of the existing services, windows and doors and work out the plan to get the bathroom fixtures where you want them.
Bring it all up to code.  Building codes mean meeting the minimally allowed standards required by your city or state. It may not matter now, but it can be a big deal when you try to resell your Tampa home.
If you are preparing to leap into your bathroom remodeling project, call Rossi Construction, Inc. at 813-436-0177.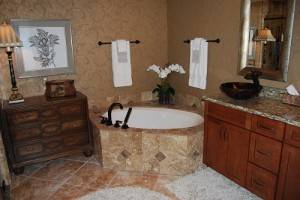 If you have the funds available for the average $38,000.00 mid-range Tampa bathroom addition, it can be a sound  investment for your home but it will only recoup about fifty-four percent of the investment at resale.  That being said, there are intangibles like style; comfort and convenience that the addition of another bathroom to your home will add to your life.
There are some vital considerations you must make before you decide that a Tampa bathroom addition is right, especially if you will be selling the house in the near future.
Adding Value to the Home
The good news is that Tampa home buyers love additional bathrooms.  A Tampa bathroom addition almost never goes wrong, and it is rare that a real estate agent hears a buyer say "this is just too much bathroom space for me to handle."
If you are looking to recoup the expense through resale of the Tampa home, or improve your prospects of selling, you will want to do your homework very carefully.  This means that if you have an older home that would sell for $200,00.00 on a good day, spending $35,00.00 to build a bathroom from the ground up will not raise the value of your home to $235,000.00.  You will just have a lovely new bathroom in a $200,000.00 Tampa home.
The general rule of thumb is that you should consider the Tampa bathroom addition only if you plan on staying in your home at least five years.
How Do I Evaluate Possible Return on Investment?
Tampa home buyers tend to prefer that a home have roughly the same number of bathrooms and bedrooms.  Any Tampa bathroom addition that brings the number of bathrooms in line with the total number of bedrooms is likely to equate to a bigger return on investment.
The most valuable Tampa bathroom addition you can make is when you start with only one bath in the house; a second bath makes a good impression on buyers and can be the difference between selling a house and having it sit on the market.
Another important area of balance is showers to bathtubs.  For maximum resale potential, you should have one of each in your Tampa home.  A Tampa bathroom addition that gives you the shower or bathtub that you are missing is a smart choice.
Understanding the implications to the value of your home is important and can keep you from making costly mistakes.  Be sure to return for our follow-up article discussing additional ideas associated with Tampa bath projects.